SERIOUSLY GOOD RECIPES
Discover all of the unique ways that Serious Foodie can inspire your dishes. Whether you're in a pinch or planning an evening with those you love, learn more about the versatility of our spices sourced from around the globe. Keto's, vegans, veggies & carnivores rejoice – we have something you'll be sure to love!
We love paella, and we usually have to  wait for a weekend with nothing to do but work through all...
We were inspired by a recipe printed in the Wall Street Journal (issue 3/1/20) by Chef Philip...
Try out this slightly exotic, slightly sweet, slightly spicy, slightly savory cocktail - and be...
This is a great, simple, tasty recipe from Turkey that takes a little bit of time to cook, but is...
We love fried chicken, especially those fully-flavored extra crispy versions.  There are plenty of...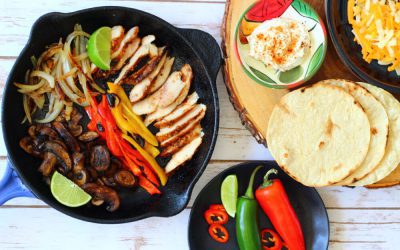 Fajitas are that fun entree to order out at your favorite Mexican restaurant. The drama of the...
We took a few boxes to make a fig simple syrup that we use for making our Wintertime version of a...
There are so many things you can do with spice blends, besides grilling your favorite spice rubbed...
With the right ingredients the outdoor grill can be the focus of cooking for a healthy diet –...
We try to grill everything – we love the crisp, smoky flavors you can get from any type of grill...
Testing this recipe.  So this is what I'm going to say - try this recipe.  It's good stuff.  If...
Use this like normal post content. The recipe will automatically be included at the end of the...
There is nothing like the color, flavor, crunchy, and fresh simplicity of a Vietnamese stir fry...