One of our go-to quick healthy-ish meals is curry,and this really easy Quick Southeast Asian Curry may be the most delish version we've ever done! Everyone at the Serious Foodie loves us when we bring in the left-overs.
We start with one easy trick – using a spice blend as the major flavoring agent.  In fact, a large part of the world uses this same trick for braising/stewing – a pot of stock, add some spices, then add the protein.
In this recipe, we start with
the Filipino Grill blend
– it's so amazing, so flavorful that we can use this on anything, anywhere. It's f
ull of fragrant sweet spices, lots of citrus, and a bit of heat, so it's perfect for this curry dish. 
Want to understand curry a bit better?  Try out this great  article on
Bon Appetit
, or check out the explanation on
Wikipedia
.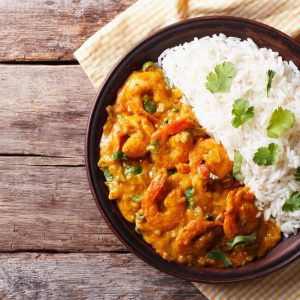 Quick Southeast Asian Curry
We use shrimp in this recipe - but this works equally as well with fish, meat, and tofu. If using chicken or beef, cut the meat into strips before dry-rub marinating.
Ingredients
1

pound

large or extra large shrimp

shelled, and vein removed

1

jar

Serious Foodie Filipino Grill Rub

2

tablespoons

vegetable oil

1

medium

onion

diced

1/2

pound

fresh green beans

trimmed and cut in half

1

cup

Cocount milk

Use a good brand, like Thai Kitchen

1

cup

Chicken stock

1

jar

Optional: Serious Foodie Sri Lanka Coconut Lime Hot Sauce

2

green scallions, sliced on the bias

8-10

sprigs

Optional: fresh cilantro

2-3

cups

steamed rice
Instructions
Place the shrimp in a large bowl, and generously season the shrimp with the Filipino spice rub. Put a cover on the bowl, and let marinade for at least 15 minutes.

Heat oil in a saute pan on medium heat. Fry onion for about 3 minutes until soft. Add the shrimp and green beans, and saute for about 5 minutes, making sure that you turn the shrimp.

Add the coconut milk and chicken stock, along with 2 tablespoons of the Filipino spice rub. If you want this dish a bit spicy, then add 1 to 2 tablespoons of Sri Lanka Coconut Lime Hot Sauce. Alternatively, you can leave a bowl of the Sri Lanka Coconut Lime Hot Sauce on the table to add according to each person's taste. Put the heat on simmer, and cover for 15 to 20 minutes (if you are using chicken instead of shrimp, you will need about 30 minutes).

Serve curry in a large bowl, garnished with coriander. Serve with steamed brown rice and fresh cucumber and tomato on the side.
Notes
Try out our array of wonderful Asian ingredients: