We became obsessed with bread making during our COVID hibernation, and have studied a lot of different styles and techniques.  We have a tried lots of bread types like our very popular Japanese Milk Bread recipe, various sourdough loaves,  lots of variations of Italian bread, challah, brioche – and we recently started making some really cool breads with various different nuts & grains.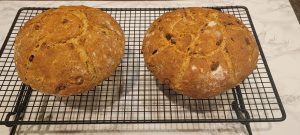 One of our favorite recent breads is pistachio oat bread.  We first saw a version of this loaf in San Francisco at the famous Tartine Bakery (BTW, we admire anything that Chad Robertson does, and we use his cookbook all the time).  This is not a sweet bread, but it is maybe the most flavorful bread we've made to date. 
Serve with any of your favorite nut spreads (pistachio butter obviously works best), or try some brie or Camembert with a bit of fig jam – oh, so yummy!
Ingredients
Pre Ferment ingredients
1.5

cups

purified water, room temperature

about 175 g

2

tsp

honey

about 10 grams

1

tbsp

active dry yeast

do not use instant yeast for this recipe

1.5

cups

Bread flour

about 175 g
Bread ingredients
2

cups

whole milk, room temper

about 390 g

1

cup

purified water, room temperature

1

tbsp

active dry yeast

1

tsp

salt

about 10 g

1/4

cup

honey

about 35 g

4

cups

Bread flour

about 480 g

4

tbsp

butter, melted

about 65 g

2

cups

old fashioned rolled oats

about 200 g

1

cup

pistachios, roughly chopped

about 150 g
Instructions
Pre-Ferment Mix (Poolish method)
Mix together 1.5 cups water, 2 tsp honey, and 1 tbsp yeast. Let activate for 1-2 minutes.

Mix in 1.5 cups of bread flour until smooth. Cover, and refrigerate overnight, or at room temperature for 1 hour.
Bread
Mix together the milk, 1 cup of water, 1 tbsp yeast, 1 tsp salt, and 1/4 cup honey, Add in 4 cups of bread flour, then the melted butter, and mix until all the flour is hydrated.

Reserve about 1/2 cup of oats. Add the remaining oats and pistachios to the dough, and work these ingredients into the dough by hand.

Turn the dough out onto a lightly floured surface and knead until smooth and springy, about 5-7 minutes. Push back any nuts that fall out of the dough. Cover the dough, wait 15 minutes, then knead again for 1-2 minutes.

Place the dough in a buttered bowl, and cover. Let rise in a warm place until about doubled, about 2 hours.

Gently remove the dough onto a floured surface, and divide into 2 portions. Form into round loaves, and roll reach loaf with the remaining oats.

Place each loaf into a bowl or banneton, cover, and let rise again for 30 minutes.

Pre heat your oven to 400 deg F. Place each loaf on a parchment-lined baking sheet, and score the center (this will help the bread to rise in the oven). Bake for 45 minutes or more until the surface is brown. Cool on a rack before slicing.