We love a good eggplant Parmesan.  But we're not talking about that greasy, sauce-laden mess that we see at some corporate wanna-be Italian restaurants.  Here we're talking about a light, veggie-centric dish that we do on the grill.  Our light, summer take on this Italian-American classic skips the breading and relies on the grill to do all the cooking –  and you get added bonus flavor if you use a charcoal or wood fired grill. Flavors are enhanced with two key ingredients:  freshly made garlic oil and Serious Foodie Sicilian Spice Blend.  With our version, the "sauce" is made from flame-roasted tomatoes, flame-roasted red bell peppers, and onions which is spooned over the grilled eggplant.  Add some gooey grilled mozzarella and freshly grated Parmigiano-Reggiano, and you got a magnificent healthy quick summer meal.
First, a couple of tricks/techniques.
Slice It Right
It's important to slice the eggplant into even rounds, about 1/4 inch.  If you have a mandolin slicer, then this is a good time to dust it off – and be careful of the fingers.
Salt It Right
The next step with eggplant, for any dish, is key: evenly salt both sides, then let it sit for 20-30 minutes.  This step removes the bitter juices (you don't want those hanging around).
Garlic It Right
Pat dry both sides, then liberally apply garlic oil.  We like to make our own garlic oil, which is very simple to make and tastes best when fresh.  To make garlic oil, peel and smash 8-10 medium to large cloves of garlic.  Place in a jar with a lid.  Fill with 2 cups of olive oil, and let sit at room temperature for more than 8 hours.  If you have any left over, then refrigerate for up to a week.
Grill It Right
Heat up your grill to medium high, about 450° F – we're using a gas grill here, but charcoal or wood pellet grills work well too.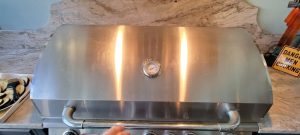 Have all your ingredients prepped, and ready to go.
Ingredients
2

medium

tomatoes, sliced

2

large

eggplants, sliced into 1/4 inch rounds

2

red bell peppers

1

large

yellow onion, sliced into 1/4 inch rounds

1

jar

Serious Foodie Sicilian Spice Blend

garlic oil

Store bought, or DIY -see text above

Kosher salt and freshly ground pepper

olive oil

extra virgin

1

pound

mozzarella, sliced into ¼-inch rounds

1/4

cup

Freshly grated Parmigiano Reggiano

1/4

cup

thinly sliced fresh basil leaves
Instructions
Lightly salt the sliced eggplant on both sides, and let rest for at least 30 minutes. Once the eggplants release liquid, pat dry.

Apply the Serious Foodie Sicilian Spice Blend to both sides of the eggplant. Brush on the garlic oil on both sides.

Salt and pepper the tomato slices and onion slices to taste, and then brush both sides with either olive oil or garlic oil. Rub some olive oil onto the surface of the red bell peppers.

Preheat grill to medium-high. Grill the tomatoes, onions, and red bell pepper until charred in spots, 4 to 5 minutes. Transfer to a cutting board. When cool enough to handle, remove the skin off the bell peppers, then remove the core. Roughly chop the tomatoes, onions, and roasted peppers and transfer to a bowl.

Grill the eggplant rounds, turning once, until lightly charred in places and almost tender, 4 to 5 minutes per side. Transfer to a plate.

Top eggplants with mozzarella. Return to grill and cook, covered, until cheese melts, 1 to 2 minutes. Top evenly with tomato/onion/pepper mixture, sprinkle with Parmigiano Reggiano and basil, drizzle with olive oil.