Vietnamese pho (pronounced "fa") is a soup dish consisting of broth, rice noodles, herbs, and meat (beef, pork, or chicken). Pho is a popular food in Vietnam where it is served in households, street stalls and restaurants countrywide. Pho is considered Vietnam's national dish, but now can be found in almost any major US city.  Typical Vietnamese ingredients hit every deliciously addictive note that you can find – sweet, sour, salty, spicy, umami. The hardest part, we found, was creating the flavorful broth without having to buy a ton of ingredients or taking a few days.
Vietnamese Pho – It's Just Soup, Right?
Pho differs throughout Vietnam and in other parts of the world, depending on the broth's flavor, noodle size, and ingredients added to the finished product. The most common pho version in Vietnam uses thick dried rice noodles, but you usually see the thinner rice noodles or bean noodles in US Vietnamese restaurants.
In the Guide Vietnam description of Vietnamese cooking, they state that one of the hallmarks of Vietnamese cooking is fresh ingredients, making it one of the healthiest foods in the world.  According the the Healthline website, pho has many health benefits, including "gluten-free, anti-inflammatory, nutrient rich, protein rich."   The aim of this recipe, as well as all of our Vietnamese-inspired recipes, is to preserve the freshness and natural taste of food as much as possible.
If you want to learn more about Vietnamese cuisine, check out Vicky Pham's website about Vietnamese home cooking.  We love her simple, healthy recipes, and we especially love her easy how-to YouTube channel. She is a self-proclaimed "pho-aholic", and has a wonderful DIY from scratch Vietnamese pho recipe. If you don't want to start from scratch, we offer a tasty alternative.
Serious Foodie has now made it very simple to make Vietnamese Pho at home with the Vietnamese Pho Kits (click HERE to Buy Now).
Check out our other Asian-inspired recipes: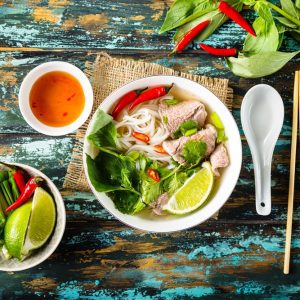 Vietnamese Pho
Many combination of vegetables will work in this recipe, but don't skimp on the fresh herbs. The herbs are important for flavor and health benefits. Chicken or tofu is an easy substitute for the protein - if you use beef or pork, will want to thin-slice and marinate for overnight before using.
Ingredients
1

bottle

Serious Foodie Ginger Lime Vietnamese Stir Fry Sauce

8

ounce

thin-cut steak or brisket

You can use chicken or pork

2

packets

Pho Concentrate from Savory Creations

Available in the Serious Foodie Pho Kit

1

package

Bean thread or rice noodles

We prefer the bean thread noodles, since they are low carb

1

1 Fresno chile pepper, sliced

1/2

pound

baby carrots

cut in half

2-3

green scallions, sliced on the bias

save about 1/4 of the greens to garnish

1

lime, quartered

1/2

cup

fresh cilantro

1/2

cup

Fresh mint leaves

1/2

cup

Bean sprouts

washed and dried

2-3

green scallions, sliced on the bias

Serious Foodie Sambal, or Hot chili oil

Optional
Instructions
Marinate the meat for at least 1 hour, or preferably overnight using the Serious Foodie Ginger Lime Vietnamese Stir Fry Sauce.

Create the broth, using the directions on the package (about 2 cups of water per packet). Heat to a simmer

Rehydrate the stick noodles briefly in boiling water, about 1 minute. Drain, then divide into the 4 bowls. Do not over-cook.

Divide the meat between four serving bowls. Top with very hot broth, then cover to cook the meat (about 5 minutes).

Garnish with Fresno chile pepper, lime, cilantro, mint, scallion, and bean sprouts. Serve with a side of lime wedges, and Serious Foodie Sambal, or Hot chili oil