We love swordfish – and here we offer a quick, easy recipe to get you the best grilled sword fish you ever tasted.  It takes 15 minutes to marinate the fish and about 8 minutes to grill it to juicy perfection, so it comes together in a flash.  Add a simple side or two, and voila! you have an elegant, delicious meal. 
Swordfish is an ideal fish candidate for grilling. It's firm, meaty, mild-tasting, and easy to find.  However, it's not as forgiving as some fatty fish, like salmon and black sea bass, so you have to be careful with cooking. We take our swordfish off the fire when it still feels "rare", like a beef steak, By the time it gets to the table it should be cooked through. A quick marinade using the Serious Foodie South Pacific Mango Sauce works wonders on swordfish – in fact, the mango sauce was inspired by a dish we've had in Hawaii.   The key to any marinade is salt, acid (vinegar and/or citrus), and sugar.

It's also important to marinate for no more than 10 to 15 minutes, or the acid will break down the flesh and leave it mushy. If you don't have a grill, this recipe works equally as well with a broiler, or you can pan seer using a cast iron skillet. Serve this alongside a colorful pile of Asian Slaw (click HERE to see the Serious Foodie slaw recipes), or roasted Moroccan carrots (click HERE to see the recipes). It's a meal you'll never forget.
Picking the Right Swordfish Steak
Look for swordfish steaks that are light in color, ranging from cream to gently pink to ivory. What you don't want is swordfish flesh that's turned a dull brown tint. Swordfish also has some darker muscle tissue that runs through it, which can turn a deeper brown with age; if there's a slight reddish tint, that can suggest freshness. Like all fish, swordfish at the market should never be stinky or smell unpleasantly fishy. Instead, it should have a faint and distinctly clean fish aroma.The thickness of the steak is most important. You want a piece of swordfish that's about one to one and a half inches thick. 
How You Cook Swordfish Matters – A Lot
You want to preheat your grill and grill grate, clean the grate well with a grill brush, and oil the grate. A hot, clean, and oiled grill grate will be much less likely to severely stick to your fish than a gunky, cold one. I recommend setting your grill up for a two-zone fire, which means spreading the lit charcoal over one half of the charcoal grate while leaving the other half empty. This allows you to sear the fish over high heat, and then move it, if necessary, to a cooler portion of the grill to finish cooking over indirect heat. Whether or not you need to do the finishing step over indirect heat will largely depend on the thickness of your fish. A thinner swordfish steak may be done as soon as both sides are nicely seared, while a thicker one may need a few extra minutes for the heat to penetrate more deeply to the center.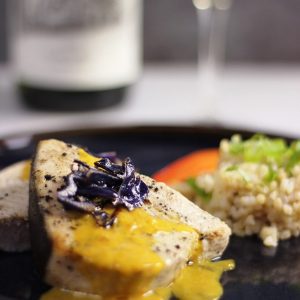 The Best Grilled Swordfish Ever!
The Serious Foodie Mango/Aji Sauce is used for here, but you can easily use the Peruvian Blood Orange Sauce or the Mexican BBQ sauce. Serve with wild rice, brown rice, or Forbidden rice (pictured), along with an Asian slaw. Make some extra marinade to use as a dressing on your slaw or salad.
Ingredients
1

jar

Serious Foodie Pacific Mango/Aji Sauce

2

tablespoons

rice wine or apple cider vinegar

1½

teaspoons

Fine sea salt

1

teaspoon

freshly ground black pepper

½

cup

olive oil

Avocado or safflower oil are also good with this recipe

4

swordfish steaks

5 to 6-ounces each
Instructions
Whisk together the Serious Foodie Sauce, vinegar, salt and pepper in a small bowl.

While whisking, slowly add the olive oil to make an emulsion.

Place the fish steaks in the marinade, coat well on both sides, cover, and let stand at room temperature for 10 to 15 minutes.

Preheat your grill, or get your cast iron skillet hot (medium high heat).