There are so many things you can do with spice blends, besides grilling your favorite spice rubbed meats. How about snacks?
As part of our own healthy eating trend at home, we wanted to do something quick and easy that would satisfy our craving for something sweet and salty, and maybe a bit spicy. And we knew we could come up with something better than what we could buy in the store, so we investigated a bunch of honey-roasted nut and snack mix recipes to find a great one to serve with your favorite summer time adult beverage.
You can use this recipe with just about any combination of nuts, pretzels, chickpeas, etc.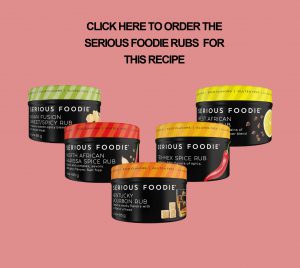 Spice Rub Honey Roasted Snack Mix
Use a hefty amount of almonds to get the biggest healthy impact - lots of nutrients and protein in our version.
Ingredients
1

pound

Mixed nuts, unsalted

Low salt snack mixes also work well. We used almonds, cashews, pecans, Rice Chex, and gluten free pretzels

3

tablespoons

honey

Maple syrup also works

1

tablespoons

unsalted butter

Coconut oil can be substituted

2

tablespoons

Serious Foodie West African spice blend

Any of the Serious Foodie spice blends work, or come up with your own mixture

1

egg

Separated

We're only using the whites for this recipe

1/2

teaspoon

sea salt

More or less to taste
Instructions
Preheat the oven to 300 deg F, and line a roasting tray with parchment

Place the honey and butter (or coconut oil) in a pan and heat gently until combined. Add one tablespoon of spice rub, and stir in the nuts/snack mixture.

Spread the mixture on the parchment lined roasting tray, and roast for about 20 minutes, giving the mixture a stir at 10 minutes. Keep an eye on the mixture - it should be brown, not burnt.

Leave the mixture cool for 2 minutes, then place in a bowl. Whip up the egg white until frothy. Add the remaining 1 tablespoon spice rub, whipped egg white, and optional salt to the cooled nuts, then stir until everything is well coated.

Return the mixture to the roasting tray, spread out in a single layer, and place back in the oven for 10 minutes.

Spread out the mixture in a single layer, and leave to cool completely before storing.