Ask ten people about marinades, dry rubs, brine, and finishing sauces – and you'll get at least five different answers and five blank stares.  Even among professional chefs there is plenty of confusion on how and when to use a marinades, dry rubs, brine, and finishing sauces – and why sometimes it would be better to use a dry rub or a brine. Then, after you dry rub to get a bunch of flavor into your favorite protein, comes the important question: should you sauce or not?

And, why not use dry rubs to spice up cocktails, snacks…or desserts?
So, we thought you'd like to hear about some of the facts behind the technique of rubs, which can be so important for grilling and roasting – and help you think outside the box (or dry rub jar, in this case).  In this article, we run through dry rubs.  Make sure you read to the end – we have some creative idea on using spice rubs.

---

Why Use Dry Rubs?
Dry rubs are simple, versatile, and cheap – even when you buy a pre-made rub rather than collecting all the spice ingredients to make from scratch.  Home made versions are easy to prepare, but a commercial version may have ingredients that are harder to find, or you just don't want extra spices hanging around in your cupboard.
Spice rubs/blends are used around the world to impart a lot of flavor to grilled meats, casseroles, and stews – and are often used instead of salt.  They can be stored at room temperature for long periods of time, and do not take up much space.  Another great thing about dry rubs is that you can impart a lot of flavor without much work and without much added calories.  The typical dry rub from Serious Foodie adds between 5 to 10 calories per serving.  Not much, considering that the average BBQ sauce can add about 100 to 200 calories per serving.
The Basics for Using Dry Rubs:
Like marinades and brine, timing is everything on when you apply a dry rub.  Follow these principles, and you will always get a great result.
Dry Rubs Are As Easy As 1, 2, 3:
Rub & Wait & Refrigerate

Warm to Room Temperature, Then Cook
Add a Sprinkle of Dry Rub (as the meat rests)
(Optional) Add Sauce near the end of cooking.
When using any dry rub, make sure you pat the main ingredient to remove excess surface moisture with a clean towel (meat, fish, or vegetables).   Be very generous when applying a rub – and, as the name implies, rub the ingredients gently into the meat, fish, or vegetable.
***THIS IS THE VERY IMPORTANT MASTER CLASS STEP:  Tightly wrap the dry-rubbed meat, fish, or vegetable with plastic wrap (nothing else will really work), put into a container, then place in the refrigerator for 2-4 hours at least.  Overnight is best.
How a Dry Rub Works
If you see liquid below your meat, fish, or vegetable – don't worry!   This is exactly what needs to happen.  The moisture from the meat, fish, or vegetables is drawn out by the spice blend (dry stuff absorbs water – right?).  The spices and liquid combine, then are reabsorbed back into the meat, fish, or vegetable over time.  That is why you need to wrap tightly, and why you need to wait at least 2 hours. The surface remains moist enough to readily take in the flavor of the grill smoke, or the cooking sauce (if you go in that direction – see below).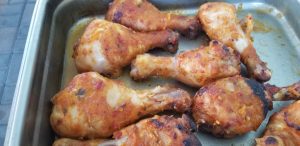 In some instances, a dry rub alone works without a grill or finishing sauce – as long as you use a very flavorful rub, and use a trick or two.  If you are roasting a chicken, make sure you loosen the skin to place a bit of rub under the skin as well as rubbing top  and bottom.  If you are grilling, sprinkle a bit of the dry rub over the finished product right before serving to kick up the flavor a bit.  We even tried a dry rub on a store bought, pre-roasted chicken.  We were amazed that the flavors permeated the meat after only a few minutes.
Rub & Sauce Combos

You can easily mix and match dry rubs with your favorite grilling or finishing sauces – a bit of fresh tomato sauce on Italian dry rub grilled chicken, Serious Foodie Hatch Chile Sauce on fried fish fillets flavored with the Serious Foodie TexMex dry rub, or a nice Serious Foodie Korean Grill Sauce on Serious Foodie Asian rubbed pork loin.  Be creative with your combo – Serious Foodie Damien did a great job with Filipino Spice Rubbed Grilled Pork (click HERE for the recipe) combined with Indonesian Sambal crema on tacos!  Yum!SaveOnOnjsdfldsfsdfA
Add a dry rub to a brine for added flavor.  We added the Serious Foodie Filipino Grill Rub to a standard buttermilk overnight brine on chicken – all that wonderful flavor was just soaked up by the meat.  We then grilled the chicken without a sauce – moist, amazing flavor in every bite.  There were no leftovers.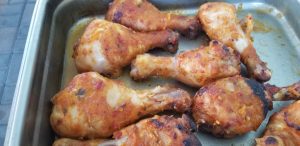 A few words of wisdom: (1) If you use a dry rub, just be careful of the salt and sugar you are adding with the sauce – you don't want everything tasting like a salt lick, or a candy bar.  (2)  The only other issue is when you apply the sauce – our rule of thumb is always near the end of cooking, and less is better.  Have some sauce off to the side to dip if folks want more.
And Now for Something Completely Different…

Let's start with salads.
cocktails.  It's not a new idea to rim a glass with some sugar or salt – anyone for a margarita? – but you can really
Save
Save
Save
Save
Save
Save
Save
Once you've got a spice rub on hand, you can use it to jazz up other dishes, like seamed vegetables or soup. Another use is in salad dressing; simply mix some of the spice mixture with oil and vinegar.