We came across a package of tri-colored cauliflower, and we got inspired to find a recipe that was a bit different than our usual steamed, roasted, or sauteed cauliflower.  We wanted to highlight the color and flavor of these amazing looking vegetables, and create a satisfying main dish that fits our new vegetarian diet.
This recipe uses the Sicilian concept of sweet/spicy/salt/sour.  And it's simple, and delicious.  Even though Calabria is not strictly Sicilian, we add some of the Serious Foodie Calabrian Pepper Relish to spice up the dish – the Sicilians also love their spicy peppers.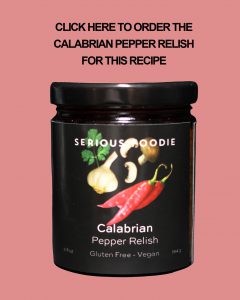 Sicilian-Style Pasta with Cauliflower
The real trick to this recipe, and most pasta recipes, is to make sure that the pasta is cooked a bit less than al dente. Adding the pasta to the sauce, and simmering for 5 minutes, will infuse a lot of flavor into the pasta.
Ingredients
3/4

lbs.

Whole grain pasta

We use the Ancient Grains version with brown rice and quinoa.

1

tablespoons

Kosher sea salt

1/4

cup

Extra virgin olive oil

5

cups

Cauliflower

Cut into florets

3

large

shallots

pealed, cut into julienne slices

2

cloves

fennel

julienn slices

1/2

cup

white wine

preferably Soave or Pinot Grigio

1 to 2

tablespoons

Serious Foodie Calabrian Pepper Relish

1

tablespoon

rinsed capers

Optional

2

tablespoons

golden raisins

Optional

3

tablespoons

flat leaf parsley

chopped

1/4

cup

Pecorino Romano

Parmesan cheese also works
Instructions
Bring a large pot of water to a boil over high heat, then salt it generously. Add the penne and cook, stirring occasionally, until slightly tougher than al dente. Save 2 cups of pasta water for the sauce.

While the pasta is cooking, heat 2 tablespoons of the oil in a large skillet over medium-high heat. Add the cauliflower, shallots, and fennel, then cook while stirring occasionally, until the cauliflower is well browned, about 8 minutes. Add the garlic, saute for 1 minute, then immediately add the white wine. Add 1/2 cup of pasta water, bring to a simmer, and cook until you get the desired cauliflower texture - no more than 5 to 6 minutes. Add the raisins, and capers, then add the pasta and simmer for another 5 minutes. Add more pasta water as necessary to get the desired sauce. Remove from the heat and add parsley.

Plate the pasta, then add the cheese and drizzle with additional extra virgin olive oil.