Bottles of different types of vinegar are indispensable in our pantry – balsamic (both dark and golden), sherry vinegar, a good red wine vinegar, flavored vinegar, and more. Vinegar adds brightness to salad dressings, tenderizes meat in marinades, and cuts through richness in fatty dishes to restore balance. The good ones – like an aged Modena Balsamico, or the Serious Foodie New Zealand Tamarillo Vinegar – also help to make a mean cocktails.
Though "drinking vinegar" is not what most people do regularly (except for those who drink a certain brand of apple cider vinegar), the savvy bartender will slip in some sort of acidic liquid in most of their drinks – think lemon, lime, sour orange, etc.  Once you begin to think of it like any other acid you would drink—hello, lemon juice—a whole world of sweet, sour, and slightly bracing options open up.
There are two ways you can incorporate the sour liquid into your life. You can make a funky, fruit-enhanced, syrupy shrub, or you can splash some of directly into your drink.  Below is our recipe for a funky version of a Mint Julep, mixing in the Serious Foodie Tamarillo vinegar (which has raspberry notes).
Before we get to the recipe, let's discuss the most common vinegar drink – shrubs. Shrubs can be used with or without alcohol, and just might be your go-to refresher.  There is a ton of room for variation, and you can change any of the three ingredients to suite your whims and desires. Just make sure you use a high-grade flavor packed vinegar that will complement the fruit.  As for sweeteners, simple white sugar is a wonderful choice, as it lets the fruit shine and be its best self. Don't rule out brown sugar, demerara, or honey, though; these can add a nice bit of depth and complexity.
Here are a few flavorful combinations to get your juices flowing:
1 cup diced strawberries, 2 tablespoons white sugar, 1 tablespoon champagne vinegar
1 cup diced peaches, 2 tablespoons brown sugar, 1 tablespoon fruit fortified vinegar (we used the Sparrow Lane blackberry balsamic), and a knob of grated ginger
1 cup diced pears, 1 teaspoon white sugar, 1 tablespoon aged balsamic (you might need to adjust the sugar, depending on the age/sweetness of the balsamic).
1 cup diced apricots, 2 tablespoons white sugar, 1 tablespoon rice wine vinegar, 1/2 teaspoon ground cardamon
1/2 cup diced cherry tomatoes (What? YES.), 1 tablespoon white sugar, 1 tablespoon Serious Foodie Tamarillo Vinegar
Mix 1 ounce any of these shrubs with 1 ounce of alcohol or sparkling wine, and pour over ice.  Or a 1:1 ratio of shrub to sparkling soda, so a clear-headed refresher.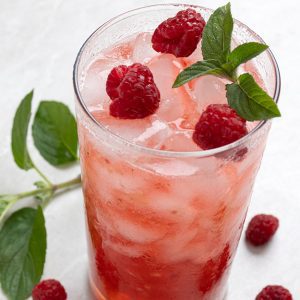 Raspberry Mint Julep
Ingredients
1.5

ounces

bourbon

We like McKenna as our every-day bourbon for mixed drinks

1.5

teaspoons

sugar

4

raspberries

cleaned

1

tablespoon

Serious Foodie Tamarillo Vinegar

4-5

Fresh mint leaves

cleaned

Ice
Instructions
Muddle 3 mint leaves, 3 raspberries, sugar, and splash of water in a rocks glass or julep cup.

Add bourbon, vinegar, and fill glass with crushed ice and stir.

Strain into a glass with ice. Garnish with fresh mint and raspberry. If you like, add some club soda.