Halloumi – have you heard about this cheese that doesn't melt?  It's actually a bit magical, in a way.  It doesn't taste like much when raw (in fact, it's a bit rubbery and salty).  When cooked, it has a browned, crusty exterior, a soft, gooey interior, and an intensely savory flavor.  And it can then be used in so many different ways – salads, sandwiches, crostini…. you name it.  Halloumi truly is magic – a cheese that retains its shape when grilled.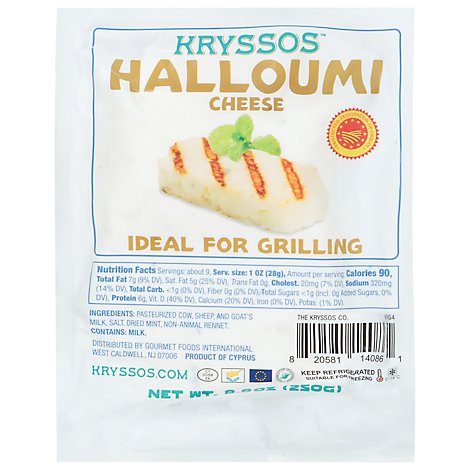 We're finding it everywhere, even on Amazon!  So, give it a try with this very simple  recipe.
Spice Rub Marinated Grilled Paneer with Herb Chutney
Ingredients
8

ounce

block of firm paneer

1-2

tablespoon

vegetable oil

Canola, safflower, or sunflower work well

1

jar

Serious Foodie Asian Fusion spice blend

1

1 lime

cut into wedges

salad greens

Optional

1

jar

Serious Foodie Sri Lanka Coconut Lime Hot Sauce

Optional
Green Herb Chutney
1

cup

loosely packed cilantro with stems

2

cups

loosely packed mint leaves

2

green chilies (Thai or Serrano)

stemmed. De-seed and de-vein if you want the chutney less spicy. Or don't use chilies at all

1

tsp

sugar

1

tsp

fine sea salt

1/4

cup

fresh lime juice

1/4

cup

Greek yogurt

1/4

cup

yellow onion

1

tsp

Serious Foodie Asian Fusion spice blend
Instructions
Generously spread the Serious Foodie Asian Fusion spice blend over all sides of the paneer. Wrap tightly with plastic wrap, then place in the fridge for at least 6 hours. Best if left overnight.

Slice the paneer block into 8 slices, one inch wide

Brush the slices with vegetable oil on both sides. We like to sprinkle a bit more of the spice rub on the oiled paneer for some extra flavor.

Cook 3 minutes on each side, until crisp and browned. Serve immediately. You can place the paneer onto the salads with lime wedges, then drizzle the green chutney over the top. Serve with a side of the Sri Lanka Coconut Lime Hot sauce
Green Herb Chutney
Combine all of the ingredients in a blender and blend on high speed, scraping the bowl occasionally, until smooth and thick enough to hold at the lip of a spoon without any liquid running. The chunky bits should not separate from the liquid. The consistency of the chutney will probably depend on the strength of the blender, and a chunky chutney made with a lower powered blender tastes just as good as a very smooth one. The chutney can be refrigerated in an airtight container for up to 2 days.
Notes
Check out all of our cool products at the Serious Foodie Shop