Tandoori chicken is found on almost all Indian restaurant menus – and for good reason.  It's really easy to make.  So why not try it yourself? The Serious Foodie version gives you moist, flavorful chicken every time, and the added punch of the Sri Lanka Spicy Coconut Lime sauce adds another level of delicious.
For some context, Tandoori chicken is simply chicken marinated in yogurt and spices, then grilled in tandoor, which is a cylindrical clay oven. Wikipedia states, "Tandoori chicken is a South Asian dish of chicken marinated in yogurt and spices and roasted in a tandoor, a cylindrical clay oven. The dish is now popular world-wide. The modern form of the dish was popularized by the Moti Mahal restaurant in New Delhi in the late 1940s."  But the process of marinating a meat with yogurt and spices, then grilling the meat on wood or charcoal flame, goes back centuries – and is probably thousands of years old.
There are a lot of great resources to learn more about tandoor cooking.  Take a look at Spruce Eats – they have a great description of the method, as well as some great tandoori recipes.  And Master Class has a very nice version of quick and easy tandoori chicken – where they also mention all the variations, like butter chicken and chicken tikka masala.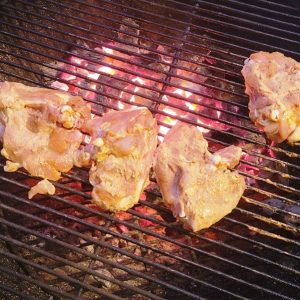 Ingredients
1

cup

Plain Greek yogurt

4

cloves

Fresh garlic

Finely chopped

2

tbsp

fresh ginger

Finely chopped or grated

4

tbsp

Serious Foodie Asian Fusion spice blend

you can substitute with store bought or homemade tandoori masala

1/4

cup

neutral vegetable oil

Canola, safflower, or sunflower work well

juice from 1/2 lime

salt and pepper

To taste

3

pounds

chicken

We prefer bone-in skinless thighs, but any type of chicken works
Instructions
In a large bowl, combine the yogurt, garlic, ginger, Serious Foodie spice blend, oil, lime juice, salt, and pepper. Stir well, until marinade is uniform.

To prepare chicken pieces, make small cuts into the flesh, so the marinade fully infuses with the meat. Add the chicken to the bowl, and turn to coat. Cover, and refrigerate for at least 2 hours, but overnight works best.

Preheat the grill, brush grates with oil, and cook the chicken, basting periodically with vegetable oil or melted butter, over medium-high heat until blistered and cooked all the way through, at least 25 minutes.

Serve with a side of Serious Foodie Sri Lanka Coconut Lime hot sauce, some naan (or other flatbread such as pita), basmati rice, grilled Indian style veggies, a bunch of Indian condiments, or pickled spicy veggies.
Notes
Some people have asked "what about the bright red color we see from tandoori chicken at our local restaurant?"  The red color comes from food coloring.  If you want red color, we suggest using annatto paste, which can be found in most Latin American grocery stores.  One teaspoon added to the yogurt marinade works just fine.
This same marinade works well with lamb, or a meaty fish such as swordfish.