There are many, many ways to cook a steak, and there are many chefs that will swear by one particular method or another.  Or just swear for the sake of it.  After trying a number of ways of cooking steak, especially a big, thick rib eye or tomahawk, we now swear by the reverse-sear method. We put our own Serious Foodie spin on the technique by doing a low and slow cook in our Traeger smoker – it was so amazing, we had to share the experience with everyone.
You don't need to have a fancy smoker, either, to use the reverse sear technique – just an oven will due (except that you won't get the same perfect flavor).  Seasoned with some fresh rosemary and thyme and slathered generously with butter, this reverse-sear steak method might change the way you cook your steak for good. Give it a try now.
The full history of the reverse sear is a little hazy (though AmazingRibs.com has a pretty good timeline). It's one of those techniques that seem to have been developed independently by multiple people right around the same time. With all the interest in food science and precision cooking techniques like sous vide that cropped up in the early 2000s, we imagine the time was simply ripe for it to come around.  We remember taking a tour of Jean-Georges restaurant in NYC, in 2005, where we saw first-hand how Chef Vongerichten was using this technique.  He told us that he also tried sous vide beef, which, in his own words, resembled something dead and ugly.  His steaks were perfectly beautiful.
While we've done reverse sear on most of our big pieces of beef since then (like a nice Christmas standing rib roast), this was the first time we used a smoker.  And it won't be our last.
Like with all meat, it's first about the quality, and then how you season.  While we used the Serious Foodie Seattle Espresso rub on this steak, just seasoning with plenty of salt & pepper will work just fine.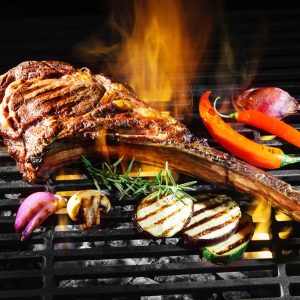 Ingredients
4

pounds

Thick-cut beef steak(s), at least 1 1/2 to 2 inches thick

We used a tomahawk, but ribeye, porterhouse, T-bone, will work

2

tbsp

course sea salt

Black pepper

to taste

1

jar

Serious Foodie Seattle Espresso Rub

Optional

2

Sprigs of rosemary

Optional

1/4

cup

olive oil

Optional

2

garlic cloves

Peeled, and sliced (Optional)
Instructions
Bring the meat to room temperature, at least 1 hour before cooking. Pat dry.

Set the Traeger grill (or oven) to 220°F.

Generously season meat all over with salt and pepper, then the Seattle Espresso rub. Allow the meat to sit with the seasonings for at least 1/2 hour before cooking. Place the meat on the Traeger grill (or place in the oven on a rack sitting in a sheet pan), and close the grill. Cook until the internal temperature reaches 110°F. Our 4 pound tomahawk took 1 hour in the Traeger. Allow the meat to rest for at least 15 minutes at room temperature before you take the next step.

Make sure the grill grates are well oiled. Pre-heat your grill, or prepare the charcoal grill for high heat. Place the meat on the grill, and sear for 2-3 minutes per side. Test the internal temperature: 115°F (46°C) for medium-rare, 125°F (52°C) for medium, or 135°F for well-done.

We like to add the Florentine touch to our steaks, which is a post-cook marinade. Add the olive oil to a deep platter, then add the rosemary and garlic. Transfer the meat to the platter and tent with foil. Wait for 5 minutes, flip the steak, then wait 5 more minutes. Then it's time to cut and serve.