Eggs Benedict is one of those breakfast/brunch dishes that we rarely make at home – too much fuss.  But when the sauce preparation is taken out of the equation, the dish is simple and quick, and is elegant. While there are some store-bought Hollandaise Sauce that are OK, we took a different direction.  The Serious Foodie Romesco Finishing Sauce is really brilliant with eggs, so we decided to try it out with our Spanish-inspired version of Eggs Benedict.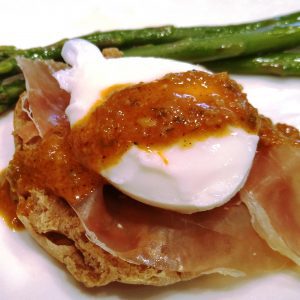 Eggs Benedict - Spanish Style
Finding a nice prosciutto, or even a fancy Spanish ham, is one of the keys to really making this dish sing.
Ingredients
4

quarters

water

unsalted butter

1/4

cup

white vinegar

1

teaspoons

Kosher sea salt

Vegetable or olive oil for coating cups

8

large

fresh eggs

8

slices

Serrano ham, or prosciutto

1

jar

Serious Foodie Romesco Finishing Sauce

Optional: finely chopped parsley

Optional: grilled asparagus
Instructions
Cut the English muffins in half; toast to your taste, and butter to your taste. Place on a plate, and add Serrano ham or prosciutto to each half.

Put 4 (6-ounce) well-oiled custard cups in a 6-quart deep, straight-sided saute pan or rondeau. Add 4 quarts of water or enough to cover the cups by at least 1/4-inch. Add the vinegar and salt to the water and put the pan over high heat. Heat just until the water begins to boil and the cups clatter against the bottom of the pan, 20 to 25 minutes.

Adjust the heat to maintain a water temperature of 205 degrees F outside the cups. Break the eggs, 1 at a time, into custard cup. Pour the eggs slowly into each of the cups, timing them about 10 seconds apart. Cook for 3 minutes each.

Run a butter knife around the edges of each cup, and place the eggs onto the English muffins with the ham. Add a heaping tablespoon of the Romesco sauce to each egg. Garnish with the optional chopped parsley, Serve with steamed asparagus, and some more of the Romesco sauce, if desired.