This simple, but incredibly flavorful Indonesian Stir Fry rice dish comes together in minutes.  It's one of those ultimate comfort food for spice lovers.  You can make this dish with chicken, shrimp, or pork – but it is also a great vegetarian main course.  And it's healthy-ish.
The Indonesian name for this dish is Nasi Goreng, and it's essence is the sweet, savory, spicy flavor of the sauce.  Wikipedia has a great article about the history of Nasi Goreng – check it out.  There is sweet umami from a combination of mirin and soy sauce (use kecap manis instead of mirin if you can find it), as well as a slight spicy kick from the Sambal (or a bigger kick if you use more).  Sambal is  a traditional Indonesian hot condiment, and many think that it's the best chili condiment in the world.  Check out our full article about all the sambal varieties of Southeast Asia. This dish is so flavorful that you will not be able to stop at one bowl.
There is a similar dish called Bami Goreng, which uses noodles instead of rice.  Check out the recipes on Food.com and GreedyGourmet.com.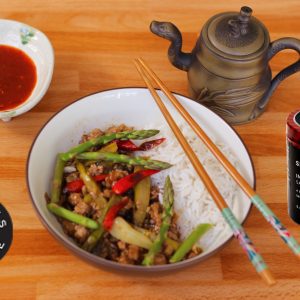 Indonesian Stir Fry
Any combination of vegetables that will stir fry (hold flavor and texture) will work in this recipe. Shrimp or tofu is an easy substitute for the protein - if you use beef or pork, you might want to thin-slice before cooking.
Ingredients
1-2

tablespoons

vegetable oil

canola or safflower works best

4

Large eggs

beaten

1 to 1.5

pounds

boneless skinless chicken

We like using thighs, which give a meatier flavor and holds up better to the sauce

1

cup

Long grain white rice

Cooked, according to directions

1/2

pound

Asparagus

Brussel sprouts, broccolini, or any other cruciferious vegetable will work

1/2

pound

baby carrots

cut in half

1

Large shallot

thinnly sliced

1

tablespoon

low sodium soy sauce

1/2

cup

Chicken stock

1

tablespoon

Mirin

Use kecap manis (Indonesian sweet soy sauce) if you can find it

1

bottle

Serious Foodie Indonesian Sambal

Optional

Salt and pepper to taste

2-3

green scallions, sliced on the bias

save about 1/4 of the greens to garnish
Instructions
Heat 1 tbsp oil in a large frying pan over a medium heat. Pour in the beaten egg and, as it begins to cook, use a spatula to bring large flakes of cooked egg into the middle of the omelette. Continue to cook like this for a couple of mins, then leave the rest of the egg to set completely. Flip the omelette over and transfer to a plate to cool before cutting it into long, thin shreds.

Heat the remaining oil in a wok or large, deep frying pan until almost smoking. Add the chicken, and stir-fry for 1 min. Tip in the shallots, asparagus, and carrots, and stir-fry for a further 2 mins until the carrot is just tender. Add the cooked rice, and stir fry for 1-2 minutes.

Mix together the soy sauce, chicken stock, mirin, and 1 tablespoon of Serious Foodie Sambal. Add this mix to the pan and put the heat to simmer. Simmer for 5 minutes. Salt and pepper to taste.

Place in a bowl, then add the stir fry. Garnish with scallion greens and cooked eggs. Provide a bowl of the Serious Foodie Indonesian Sambal to pump up the spice of this dish.