Whether you want to start off your Cinco de Mayo with a Mexican-inspired breakfast, or you want to celebrate the day (or night) with some bold flavors, try making your own breakfast tacos.  It's not hard, and you don't need much in the way of ingredients.  In fact, leftovers make a great base for breakfast tacos.  Have some pulled pork in the fridge?  Some beans? Cheese? Eggs?  Sounds like a breakfast taco in the making.
With this recipe, we offer a simple way to create a delicious first course.  We use chorizo, just because we always have some in the fridge.  Feel free to substitute any protein, beans, or tofu.  We really like crispy tofu in our tacos, even if it's from a leftover Asian meal.
Want extra credit?  Try making your own corn tortillas.  Trust us – they are not hard, and certainly worth the effort.  Check out our post on Easy Barbacoa for a how-to video on making corn tortillas.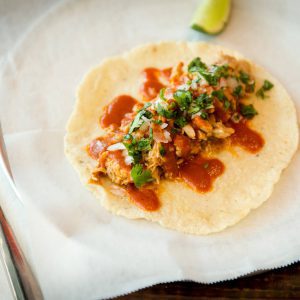 Grilled Chorizo Breakfast Tacos
Ingredients
1

lbs

chorizo

we love the Boar's Head chicken chorizo links

4

large eggs

1

tbs

cooking oil

1/2

cup

scallion or diced sweet onion

1/2

cup

diced green bell pepper

1/2

cup

diced fresh tomato

8

small to medium sized corn tortillas

1/2

cup

shredded cheddar cheese

Serious Foodie Mexican Grill Sauce

Or you can use your favorite fresh salsa
Instructions
If you are using chorizo links, simply grill or sear the sausages, then cut them up into rounds. If you are using loose chorizo, cook on medium heat until cooked completely. Remove from pan.

In the same pan you cooked the chorizo, add the cooking oil. Sauté the peppers and onion until the peppers begin to wilt and the onions start to become translucent.

In a medium bowl, whisk together the eggs along with 2 tablespoons of water (or milk). Season with salt and pepper to taste. Cook eggs over medium heat in the same skillet used to cook the vegetables (we like to combine the eggs with the vegetables; you can also separate the veggies from the eggs). Heat until reached desired doneness; set aside.

Heat up the corn tortillas. We like to lightly oil a cast iron skillet, then heat the tortillas for 30 seconds per side before serving.

Fill the tortillas with scrambled eggs and chorizo. Garnish with cheese, the Serious Foodie Mexican sauce, salsa, scallions and any other garnishes you wish.