A Great Super Bowl Recipe – We are always looking for simple & healthy dishes with an upscale taste – especially for parties.  Here we prepare a green vegetarian chili that is as tasty and satisfying as any meat-based chili we have cooked.
The use of diced portabello mushrooms gives a meaty texture to the chili, and the corn gives natural sweetness and crunch.  The Serious Foodie Hatch Chile Cooking Sauce makes this recipe a cinch to put together – with a spicy complex flavor that should please any chili perfectionist.
Looking for a meat green chile recipe?  Click HERE.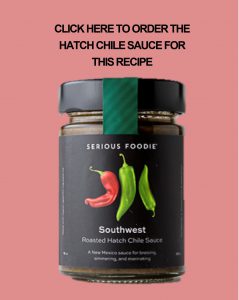 Vegetarian Chile with Serious Food Hatch Chile Sauce
Author:
Prep time:
Cook time:
Total time:
Serve this hearty chili with brown rice or hearty bread.
4 tablespoons safflower oil (or any other neutral tasting oil)
1 1/2 cups diced sweet yellow onions
1 cup chopped red and/or yellow bell peppers
1 medium to large carrot, diced
1 medium summer squash, stem ends trimmed and cut into small dice
2 medium zucchini, stem ends trimmed and cut into small dice
1 1/2 pounds portobello mushrooms (about 5 large), stemmed, wiped clean and cubed
2 tablespoons minced garlic
2 cups fresh corn kernels (about 3 ears; you can grill the corn first for extra flavor).
Salt and pepper
1 bottle Serious Foodie Hatch Chile cooking sauce
1 1/2 cup good quality vegetable stock
16 ounce can kidney beans, drained
16 ounce can navy beans, drained
Optional: sliced avocado for garnish
Instructions
In a large, heavy pot, heat 2 tablespoons of oil over medium-high heat. Add the onions, bell peppers, and carrot. Season with salt and pepper, then cook while stirring, until the vegetables give off their liquid and start to brown around the edges, about 6 minutes. Add the squash and zucchini, season with salt and pepper, then cook for 5 minutes. Remove and hold.
Add remainder of oil to the pot, then saute the mushrooms for 10 minutes. Salt and pepper to taste. Add the garlic, and saute for 1 minute. Add the cooked vegetables from step 1 back to the pot.
Add the Hatch Chile sauce and vegetable stock, stir well. Add the corn, kidney beans, navy beans, and bring to a boil. Reduce the heat to medium-low and simmer, stirring occasionally, for about 20 minutes.