There is so much to love about New Zealand – the scenery, the food, the people.  Especially the people. We discovered some great ideas on grilling, and learned why the grill is integral to the Kiwi food culture during our visits to NZ. In this article, we wanted to share our 7 best ideas that you should try when you grill, and bring that island style to your next outdoor party.
There are a few ingredients that are unique to New Zealand (Serious Foodie uses New Zealand tamarillo for it's NZ Grill Sauce), but what makes New Zealand meals special is a connection to the land & sea.  The style is best explained as "Polynesian connecting to Europe and Asia," tracing back to colonial times that are all a part of New Zealand cooking.  They take what's fresh, what's local, and they keep it simple.  And they do their grilling with friends, family, and sometimes people they just met at the farmer's market (yes – that was us).  There is a New Zealand style called Hangi – don't miss reading about this cool take on pit barbecue below.
The Kiwis are very big on portable gas grills or portable charcoal grills – anything they can take to the beach or a river or a mountain park.  So they party at home, or anywhere they feel would make a good party.
Grilling is even a fund-raising event. A traditional New Zealand fundraising activity is to set up a portable gas barbecue outside the local hardware/grocery mega-store to sell sausages in bread, with onions, tomato sauce and/or mustard for a small charge. The success of this popular fundraiser is probably due to the intense aroma of grilled onions and sausage that wafts across the car park, drawing in the hungry crowds of Saturday morning shoppers.
Everything is very casual at the New Zealand grill – but the one rule is, you have to bring your appetite, because there is always a lot to share.  Actually, there is a second rule: make sure you have plenty of beer and/or wine.
Everywhere you go in NZ, you will see the ubiquitous green lipped mussels that are local to New Zealand.  We made the terrible mistake – only once – of buying frozen green lipped mussels.  Don't do it!   Our advice – find some good, fresh local mussels, and put them on the grill. Or just go with lobster, shrimp, or oysters.
You can do something fancy, if you like:  using compound butter is about as fancy as you'll see in New Zealand.  We did have an up-scaled mussel dish that  a friend our ours made: he took the grilled mussels, mixed in some steamed whole grains, some finely chopped cabbage, fried garlic, and a slightly spicy dressing made with sambal (they love sambal!) – and it was just heavenly.  If you want to learn more about sambal, and why it is the next "hot" thing, click HERE.
You won't find the large-clawed Maine lobster, but the spiny lobsters of New Zealand are very much like those you find in the waters surrounding South Florida – but they were much meatier and sweeter than we ever had in FL.
At home, we try to grill everything – we love the crisp, smoky flavors you can get from any type of grill (charcoal preferred, but gas or pellet grills will do).  The flavor that you get when you grill shrimp/prawns is just super (shell on, of course).  You can't get the same fresh prawns like New Zealand, but the local fish markets do a good job getting a good quality jumbo shrimp.  We also grilled hearts of romaine, getting a smoky crisp surprise. In the recipe shown below (Grilled Romaine with New Zealand Shrimp), we grilled a bunch of stuff –  shrimp, corn, tomatoes, avocados, and fennel to create a unique and crunchy summer grilled romaine salad.  Easy & healthy – the way we like to rock, especially during the summer, and casual like the Kiwis.
Try an authentic taste of New Zealand with our Tamarillo Grill Sauce & Marinade. 
Sausages are a New Zealand passion and obsession.
In the US, you will see hot dogs, bratwurst, and sometimes sausages on the grill.  In New Zealand, you almost always see some form of sausage on the grill.  There is even a big festival – surprisingly called the Great New Zealand Sausage Competition, with lots of awards.
There is something the Kiwis call saveloys, also known simply as "savs." They are usually a lamb-pork-beef combo, and can be either grilled or batter-fried. Batter-fried savs are often served on a stick -kind of like a US corn-dog. Kiwis also have frankfurters (pork and beef), but are never called hot dogs.  And then, to honor the English roots, there are bangers – basically the same thing as sausage, and will generally be made from pork.
New Zealanders also like spicy condiments.  Next time you are grilling up sausages, try one of the Serious Foodie Spicy Condiments instead of the usual (ketchup, mustard, mayo is so last century):
There is nothing like NZ lamb.  Succulent and tender, grilled lamb is a favorite for Kiwi's. is held in high esteem throughout the world and is one of the country's top export meats. While we can get a fair share of NZ lamb in the US, it is best enjoyed in NZ, often simply flavored with rosemary and served alongside plenty of seasonal grilled vegetables. All livestock, especially lamb, is raised humanely.  It always  has been – it's engrained into the history of the country.
There is such an abundance of green pastures, so all animals are free range, and grass fed.  Uncomplicated, and economical, and far less likely to experience disease, so that the cost of production is lower, and NZ lamb is a bargain – even in the US.
We grilled up some NZ lamb that we bought in the US, then finished with the Serious Foodie Filipino Grill Rub.  Adding a bunch of grilled veggies and a charcoal-roasted sweet potato.
A quick word about NZ sweet potato. In New Zealand, it's called kumara, and is a big part of the grill culture for the Kiwis.  Their version of the sweet potato was brought to NZ from the Pacific Island by early Maori settlers.  It literally has it's roots linked to the sweet potatoes of Central and South America. 
We love to use spice blends as seasoning salts – instead of just salt and pepper.  They add a lot more interesting flavor.  Check out the Serious Foodie collection: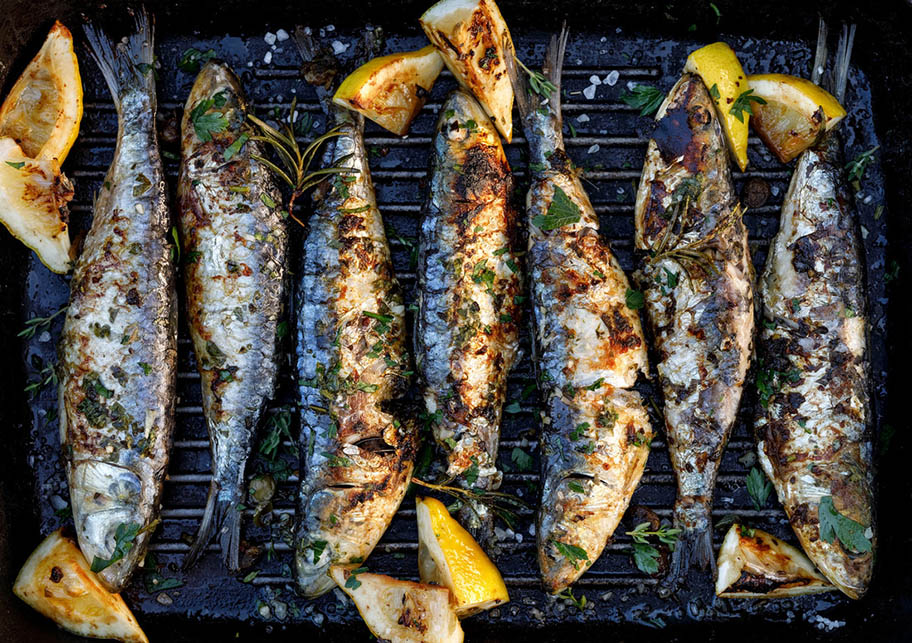 Grilled whole fish is a big deal for Kiwi culture.  Why?  Because there is over 250,000 miles of rivers, streams, and lakes.  And it is surrounded by the ocean (9,300 miles of shoreline).  So, just like the shellfish, you can get very fresh fish where you are.  To put it in perspective, you are never more than 15 miles away from a fishing spot.
Shown above are grilled sardines – yes, those are sardines.  They are monsters compared to what we see in the US. They are meaty, oily, and perfect for the grill.  The only fish that is similar in Florida is mullet.
We also saw a lot of more familiar looking fish – red snapper, sea bass, salmon are some examples.  We had a great Cajun style red snapper with a tzatziki sauce while in Christchurch.  It's easy to duplicate at home:  just dry rub the fish with Serious Foodie TexMex Rub,  and come up with your version of tzatziki.
Our associate chef Damien created this beautiful recipe with grilled mahi-mahi, using our Tamarillo Grill Sauce & Marinade to flavor the fish. Find the recipe HERE.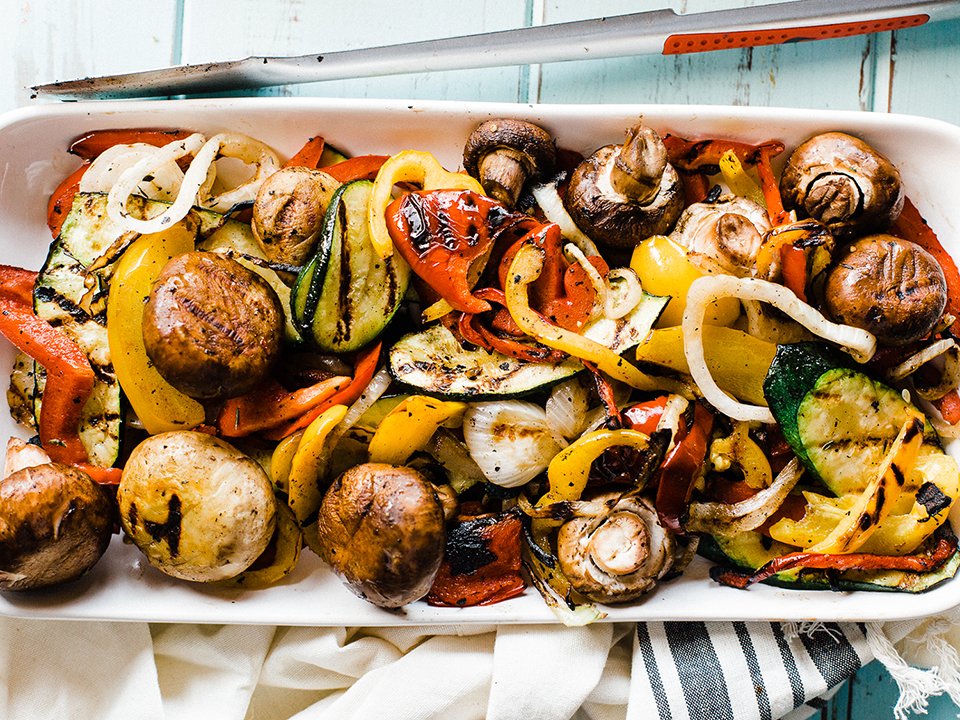 Grilled veggies are almost as much of an obsession as grilled sausages in New Zealand. Part of the allure is that its very much a farm to table experience. We met with so many wonderful artisan local farmers, and they were delighted when we made a big deal of the flavors that can only be found in NZ.
Beets are a big part of the food culture – New Zealand and Australia are the only place in the world that will ALWAYS have a slice of beet on the burgers they serve. We saw more beets than french fries, in fact. Check out the recipe for Burgers & Beets at Food and Wine.
One of the most amazing looking recipes is the Grilled Vegetable Flatbread with Smoked Almond Muhammara we found at Food and Wine.  The best part is that the Smoked Almond Muhammara can be made up to 3 days in advance and stashed in the fridge.  And it might be used on a piece of toast for breakfast.
When it comes to New Zealand food, the real starting point should be Hangi, a Maori word that basically means pit roasting.   It is one of the oldest cooking methods, and reminds us so much of kalua pork in Hawaii, and barbacoa in Mexico (see The Real Foods of Cinco de Mayo for a great description of barbacoa).  Hangi, like barbacoa, is more like steaming/braising than roasting, and not like the Carolina whole hog barbecue, or the Caribbean barbacoa, which is cooked in the open air.
Foods cooked in a hāngī include chicken, pork and lamb, as well as pumpkin, potato and kumara (sweet potato). Literally, everything is put into a basket, then lowered into the pit (called an uma) where there are hot rocks that were heated by burning wood.
Trafalgar.com has a great article,and will teach you everything you need to know about hangi.
They do add the sauce after the meat and veggies are fully cooked. So, pass the sauce!
This is where we might veer off the healthy road, but only a bit.  There is going to be more sugar in this section, even if the sugar is coming mainly from the grilled fruits.
The people in New Zealand  grill almost any fruit that's in season – and they also love making simple tarts, tartins, and other skillet desserts using fresh fruit.  
We've grilled all sorts of stone fruit (peaches, apricots, plums), pears, apples, mango, pineapple, and watermelon.  It's all good, man. The simplest grill dessert in New Zealand was fruit brushed with melted butter, then sprinkle with some brown sugar.  For our grilled fruit, we've also tried (successfully) with sprinkling grilled stone fruit our Serious Foodie Kentucky Bourbon blend.
In New Zealand, any fruit that gets grilled must also have a scoop of ice cream.  Not a bad idea!