There is nothing sexier than good food and good wine that you bring to the table yourself.  this is especially true for Valentine's Day, which is second least-favorite day to dine out (next to New Year's Eve).  Why?  The good-to-great restaurants are packed, the kitchens are stressed, the prices are higher, and many places dumb-down the menus to accommodate the folks who venture to restaurants only on Valentine's Day.
Besides, this is THE DAY for a Serious Foodie to impress with a hand-crafted meal for your significant other(s) in your life – bring along some flowers, add a bit of candlelight, and check out some of these simple & elegant meal ideas. And let the magic happen…
Crudo & Sushi
In many ways, crudo & sashimi can be scary – but also uncomplicated.  If you are a bit adventurous, but haven't yet tried to serve raw fish, then start with crudo (the Italian version of sashimi).  First, make sure you specify sushi-grade fish when shopping – this is especially important when preparing raw tuna or swordfish.  We've found a very nice fluke crudo with Meyer lemon (click HERE) – you can also use turbot or flounder.
Here's a quick primer: (1) get some sushi-grade fresh fish; (2) apply seasoning – as simple as salt & pepper, or use a spice rub (we suggest Serious Foodie Asian Fusion click HERE or West African rub for crudo – click HERE); (3) add an acid – lemon juice, Meyer lemon, lime, or mild vinegar.  Use just enough to sprinkle on each piece; (4) add enough olive olive to cover each piece; (5) place in refrigerator for 1-2 hours.  Serve with some garnish – lemon peel, shaved radish, shaved fennel, herb mix, etc.
Crostini
Crostini are quick and easy appetizers (or antipasti) that can be as simple as baguette slices that have been rubbed with garlic, brushed with oil, sprinkled with salt and pepper, and baked until golden brown.  There are so many variations, and fun ways to make it all look great – check out our full article HERE for seven great recipes.
Surf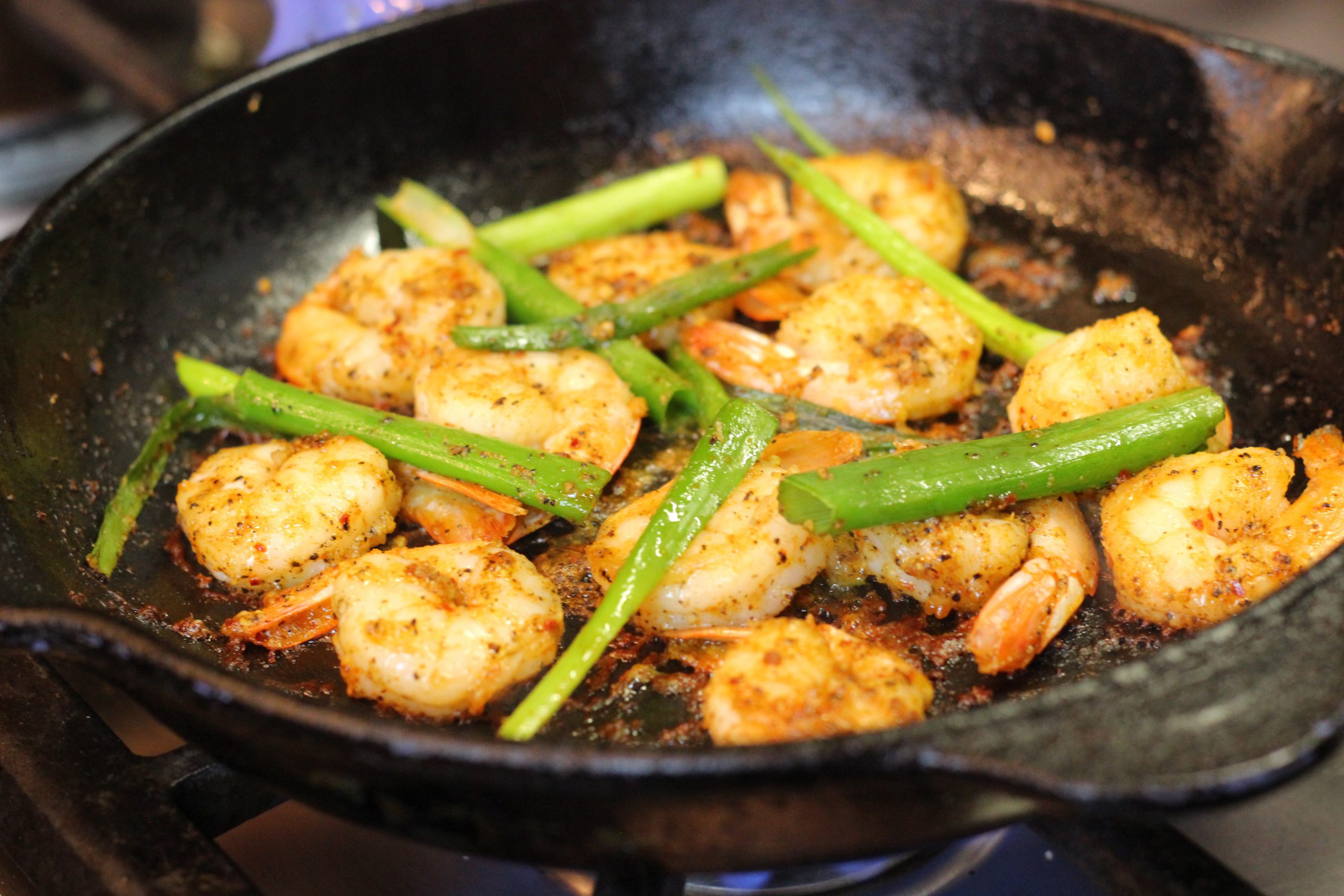 There are so many easy recipes to make shrimp, scallops, or even lobster.  By far the easiest is quick-sauteed shrimp with Serious Foodie West African Rub (click HERE for the recipe). Or grilled shrimp with Romesco sauce (click HERE).  If you want something a bit spicy, slightly exotic, but also simple, try Korean BBQ shrimp (click HERE).
Game for doing lobster?  It's not that hard.  Check out this article from the Huffington Post that gives 28 recipes that anyone can do (click HERE).
And Turf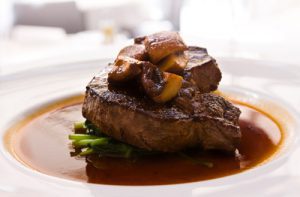 No one knows for sure how surf & turf became synonymous with Valentine's Day – but on February 14 somehow it shows up on most restaurant menus, in one form or another.
You don't have to stick to steak and lobster, but it's pretty cool and sexy.  Try the grilled surf & turf with shallot garlic butter (click HERE) which is one of our favorite quick & simple & elegant recipes.  You can get very creative by adding other herbs, or some citrus, to the butter – or just keep it simple.
How about other variations:
Grilled flank steak and shrimp;
Filet and scallops;
Small plates of steak tartar and smoked salmon
Sliders – lobster salad and aged-beef hamburgers
Take a look at the recipes for some of these combinations at Coastal Living (click HERE).
The Wines
Red wines for red meat are easy to match – anything with cabernet sauvignon as a component, such as Bordeaux or Super Tuscan wines are good choices.  It's hard to use a single bottle for surf and turf – most matches for the red meat will overwhelm the fish – but you can try softer reds, such as Barbara, Chinon, and Old World Pinot Noir (French or Italian), which can match with both red meat and fish.  For white wines, you will need more robust versions, such as chardonnay from California.  Or you can just open two bottles.
Dessert
You might be too full for dessert – but there's always chocolate.  Don't skimp  here – find a great artisan brand.  One or two pieces might be all you need.  And find some wine that works with chocolate.  Wine & chocolate – the perfect way to end a meal.  The right wine with the right chocolate is a beautiful thing, and the Serious Foodie has a full article on the subject (click HERE).  There is so much exploration to do, since there are so many interesting taste combinations to discover – nuts, fruits, types of chocolates – it really is an endless experiment.
---
Want some more ideas?  Check out these links: