The best season of the year is finally here — football season, and this year we're back being fans at the stadiums! Grab your team jersey and gather up your friends. We've got all the recipe you need for the best tailgate, from chili to wings — and everything in between. And even if you can't agree on which team to root for, we can all agree that tailgate food can be the best stuff in the world. Whether you're a fan of the NFL, college ball or just drinking and eating in parking lots or at home, these recipes are loaded with finger foods, sandwiches and plenty of buffalo chicken will have you rooting for game day.
We get a lot of inspiration from other websites – so check out:
Want to see a list of amazing, simple, fun gourmet recipes to up your tailgate party game?  You came to the right place.
Nachos
There's nothing like piled-up chips with your favorite flavors, but you might want to add some twists.  We bought a bunch of flavors from the Better Chip company: Chipotle, Salsa Verde, Beet, and Spinach/Kale.  We dressed up the beet chips with diced veggies, then drizzled with a spicy Caesar dressing (regular Caesar with some hot sauce).  Next, we put some Serious Foodie Hatch Chile Sauce on the salsa verde chips, then added shredded cheddar.
We then made up a batch of pulled chicken (check out the recipe HERE). This is super easy to make, can be made (and should be made) a day ahead, and can be used for sliders or chips.  We piled the Chipotle Better Chip with some mango/aji pulled chicken, then some some more Serious Foodie Mango/Aji Sauce, some cheddar cheese, then did a quick microwave melt.
Be warned:  Don't pre-make nachos for a tailgate party. Soggy chips are just not for serious foodies.  If you have a grill or anything to keep the ingredients warm, then just pile up the nachos on a warming plate, add the cheese, and serve immediately.
Crostini
This is the sophisticated cousin of nachos, and also one of the easiest – and most versatile – appetizers:  crostini (or bruschetta; click HERE for an explanation about the differences).  We featured a crostini recipe with brie, arugula, and Serious Foodie Fig/Orange sauce, along with links to other websites for other crostini recipes.  Check out these cool crostini recipes: Kale & White Bean (click HERE), Sweet Potato & Feta (click HERE), Radish & Miso Butter (click HERE), and Smoked Trout & Apple (click HERE).
Dips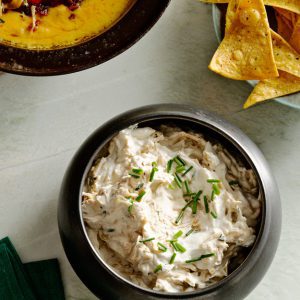 Dips went out of style, but now are making a big comeback.  Go simple with the Caramelized Onion & Shallot Dip (click HERE), Charred Eggplant Dip (click HERE), or the tried and true Artichoke & Spinach Dip (click HERE).  How about taking out the old crock pot?  Try the Chili Mac N' Cheese Dip (click HERE), Chicken Enchilada Dip (click HERE), or the Lasagna Dip (click HERE).  How about the easy and healthy Roasted Brussel Sprouts with Garlic Aioli (click HERE)? Fresh aioli is not hard to make, and it is an impressive condiment for almost any vegetable – hot or cold.
Have Fun With Potatoes
Potatoes are underrated as base for appetizers.  The picture for this section was found on the Mamasgottabake.com website – and these potatoes are cute, and addicting.  Click HERE to get this wonderful recipe.  We also loved making backed potatoes rounds – kind of an updated version on the old potato skin idea (click HERE).   There are a lot of excellent recipes for sweet potato fries – and we like the one we found on A-Kitchen-Addiction.com (click HERE).  Add some meat to the potatoes with this fun cheesy potato/sausage cups (click HERE).
Eggs Any Way, Any Time
Start with deviled eggs – and there are lots of great recipes – and you can't go wrong.  We found that the Food Network had lots of recipes:  click HERE.  Then we found this amazing recipe for avocado deviled eggs, with a great mix of bacon, jalapeno, etc.  (click HERE).  Going back to crostini, we found this arugula/walnut/soft boiled egg recipe just perfect (click HERE). To cap off (literally) our appetizer selection, take a look at this brilliant recipe on PaleoSpirit.com for Baked Eggs in Prosciutto-Filed Portobello Mushroom Caps (click HERE).  We did these at a recent brunch function, and they were a big hit.
Pulled Pork or Pulled Chicken
A favorite at any party, tail-gate, or picnic is pulled meat – chicken, pork, beef, or even lamb.  For great, flavorful pulled meat, there is the long way (sitting in front of your favorite smoker), or the short way. We have tested a number of techniques to create some wonderful BBQ-style chicken, pork, or beef recently using some of the Serious Foodie sauces (click HERE to check out all our products).  The folks that tasted our final product raved about the flavors, so we wanted to share our simple recipe with you.  This dish comes together in a snap, and stays true to the Serious Foodie mantra of easy, delicious, and healthy gourmet at home.  Use the pulled meat in sandwiches, quesadillas, tacos, burritos, on baked potatoes, etc.  Combine with some creative slaw – see the next section.
Slaw Is Not Just Cabbage
Coleslaw is found at almost every outdoor meal – but mostly it's the typical soggy mayonnaise-dressed, cabbage-centric boring stuff you can find in any grocery store by the pint or quart. For us, we needed to dig into the foundation of what slaw means, and how we can make it fun, and a bit healthier. There is actually no real definition of the word "slaw" – but it seems to mean to everyone shredded raw vegetables, in general.  So that's where we'll start.
We have the Serious Foodie version of slaw that we've used at many events, using carrots, raw beets, and fresh yellow peppers – then dressed it with our amazing Serious Foodie Blood Orange/Aji Panca dressing made from one of our sauces (click HERE for the recipe).  Also check out the really great Quinoa and Roasted Corn salad, which is almost a slaw by our definition (click HERE for the recipe). In this article, we present a few of our favorite combinations.  Think about using any of these combinations at your next BBQ event, or take it along the your next tailgate party.
Chili
Chili is a favorite of pot-luck parties and tailgate parties  – and everyone has their favorite recipe, some passed along generations.  It's an easy one pot meal, simple to prepare, and its a simmering dish that makes the house smell wonderful. The Serious Foodie recipe, which we've perfected over the years, is no exception.  Our version – with meat or meatless – uses the Serious Foodie Hatch Chile Sauce.  It's a   no-fuss chili that always has our friends coming back for seconds. It's a slightly spicy complex sauce that should please any chili perfectionist.
Wings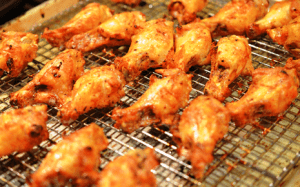 There are thousands – hundreds of thousands – recipes for chicken wings.  We came across an interesting Pintrest board from CookingwithCoach that had 100 recipes – and they all looked great.  Most restaurants deep-fry their wings – which is not the best method for the home chef.  The consensus opinion is to either bake your wings – which we do at Serious Foodie (click HERE for the recipe) – or smoke/slow roast.  We've put our Traeger grill to good use making chicken wings in the past, and they are certainly great, and easy to eat at a tailgate (no reheating required).  Click HERE for the Traeger primer on smoking chicken wings.
We've also found that chicken wings can be rather expensive right now, so we did our last party with chicken legs.  They're just as tasty, and they're half the price right now.  We glazed our wings with the Serious Foodie Korean Grill Sauce.
Ribs
There are more recipes for making ribs than hot sauce brands.  Folks have fights over dry rubs, wet rubs, mop sauces, finishing sauces, to smoke or not to smoke, etc…..but all we wanted were tasty ribs without baby-sitting a smoldering fire all day.  We know this is a sacrilege to the pit masters, but if we want authentic slow smoked ribs, there are plenty of places to get take-out without wasting all day.
We've tried many variations on fuss-free ribs, especially if we need to make a bunch of other food for a party/tailgate.   The cooking science was all essentially the same – a slow cooking method with a bit of acid (vinegar, lemon, lime) and salt was needed to break down the tough connective tissue.  Flavor can be infused before, during, and after slow cooking.
We used a braising step followed by a grilling step to get the right texture, and maximize flavor, featuring two of our favorite ingredients: beer and the Serious Foodie gourmet sauces.  Click HERE to see the full recipe.