Tacos are everywhere, but they are an integral part of Mexican food culture.  So we decided, for our CInco de Mayo article, to do a deeper dive into tacos.  First, because tacos are fun.  Second, because tacos can be very creative & delicious (which also is fun). There was a wonderful article in the Wall Street Journal by Elizabeth G. Dunn (we love her writing) where she chronicles the comeback of the taco (click HERE to connect to her article).  As she states, "… gastronomy's top echelon has plunged into a state of intense taco-consciousness." But where did this all start?  And why are tacos so important to Mexican food culture?
The History Of The Taco
The Tale of Taco is one that has evolved over centuries, combining the innovation of the indigenous peoples of the central regions of the Americas with the Spanish, immigrants from North African, and from the Middle East.  The first hint of a meal consisting primarily of stewed meat served on a corn tortilla dates back to the Mexican silver mines of the 18th century, when the word taco referred to gunpowder that was wrapped in a piece of paper and inserted into rocks. It was used to excavate the precious ore from mines and was called tacos de minero or miner's tacos.  Somehow, the word has evolved to the thin, flat griddle-baked tortillas topped with numerous fillings, folded and eaten without any utensils.  Easy to eat, wherever you are.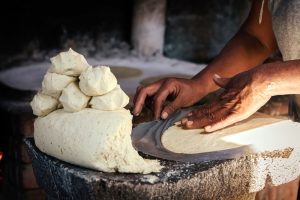 The core of Mexican cooking has been, and may always be, corn.  To begin the story, you must first look into the making of corn tortillas. The origins of the tortilla can be traced back to the various indigenous groups who built civilizations thousands of years ago in what is now Mexico. They developed a process—still in use today—called nixtamalization which uses a warm alkaline solution to transform corn in a number of ways chemically making it more appetizing and nutritious (if you want to learn more – a lot more – check out the America's Test Kitchen article on nixtamalization).  The masa dough which results is then made into wonderfully flavorful tortillas.
Mexicans have been eating corn tortillas with bits of meat or beans rolled up inside for more than a millennium.  These corn tortilla-based snack foods were known as antojitos and would come in many shapes with a variety of fillings.  According to the taco historian Jeffery Pilcher (his book, Planet Taco, can be found at Amazon), the Spanish word taco was first used for a "small bite of food" well before it can be found used in Mexico. As Pilcher believes, the genesis of the word tacos, as used today, can be traced to the snacking habits of those Mexican silver miners.  The miners strangely used the same word for their packed lunches (rolled, filled tortillas) as for the explosives they used in the mines.  Tacos are only explosive today when you use a lot of hot, spicy peppers. Once the silver mining operations died down, they brought their rolled version of the dish to the streets of Mexico City, and then later to the American Southwest.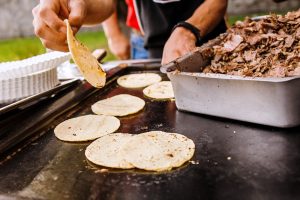 The standard Mexican street taco today can mean any combination of ingredients, found everywhere from hole-in-the-wall Mom-and-Pop joints to high-end restaurants, to street vendors, to food trucks and (unfortunately to some) to fast food restaurants. What is so amazing, and so much fun, is there is still a whole, wide-ranging world of tacos to explore,  and to create at home.  Similar to the national foods of a lot of other countries, each part of Mexico (and in the US) has it's own bit of taco culture that focus on local ingredients and cooking styles.
In Sonora, in the north of Mexico, they eat the classic carne asada – thinly sliced meat grilled over coals and topped with salsa, onions, guacamole, and a lime wedge. In Baja, the topping consists of fried fish with cabbage and an acidic mayonnaise sauce. In Mexico City, sudados (sweated tacos) are the most popular option, filled with cooked and steamed meat. In Jalisco and Michoacan, they prepare carnitas, eaten in the morning or in the early afternoon, filled with deep fried pieces of pork that are sliced according to preference. How about a portion of taco de cabeza, filled with pieces of cow's head that was steamed for a long time, and the customers can choose from slices of eyes, brains, tongue, lips, cheek, or ears. You won't find that on the menu of Taco Bell.
Tacos also differ in size, from the tiniest white tacos (blancas) to bigger ones, often made with blue corn. Most tacos come in pairs of two, in order to be able to hold all the flavorful and slightly wet ingredients. Some of them are fried until they become crispy and crunchy, in which case they're called tostadas.  Which brings us to the issue of those u-shaped mass-produced things you find at Taco Bell. The pre-fried taco shells didn't come into existence until the 1940s, when a group of Mexican chefs patented this idea first to expedite the taco-making process. Then Taco Bell took this idea 10 years later to streamline their operations.  But the best tacos are still done with soft tortillas, everything is fresh, and the tacos are made to order.
We have some really fun recipes below to get you started on your taco journey.  You can also find other similar recipes on our site:
Taco Recipes
Tacos with Green Chile Sauce
Prep time:
Here we use the Hatch Chile Sauce from The Serious Foodie – but you can substitute any green chile sauce into this recipe.
Ingredients
1 full boneless chicken breast, sliced into cutlets (to see a simple article from Serious Eats on how to prepare the cutlets, click HERE).
2 tablespoons or more of spice rub (we used the Serious Foodie TexMex spice rub – click HERE)
4 tablespoons safflower, or other neutral vegetable oil
1/2 large sweet onion, thinly sliced
Sea salt and freshly ground black pepper
5 ounces (1/2 jar) of The Serious Foodie Hatch Chile Sauce,or any other green chile sauce or green salsa
1/2 cup heavy cream, or Mexican crema
¼ cup chopped fresh cilantro
salt and pepper
12 fresh corn tortillas, warmed
1 cup grated Monterrey Jack cheese, cheddar, or any other tangy melting cheese
1 avocado, sliced
Instructions
Take each cutlet, and liberally use the spice rub on all sides. Wrap each prepared chicken cutlet tightly with plastic wrap, and put in the refrigerator, for 2-16 hours.
Meanwhile, caramelize onions: Heat 2 tbs. oil in a small saucepan over medium heat. Sauté onions, tossing to coat with oil, until softened, 10 minutes. Add a pinch of salt and 2 teaspoons water, then reduce heat to low, and cook, stirring frequently, until tender and deep golden.  If pan becomes dry, add water, 1 teaspoon at a time, to prevent burning.
Remove from the chicken from the refrigerator about 10 minutes before cooking. Carefully pat dry – you can add more spice rub at this point, if you like.
Place about 2 tablespoons oil into a saute pan. Saute the chicken, about 5 minutes per side, on medium heat. Slice into strips
Add the Hatch Chile sauce and the cream into a sauce pan, and simmer for 4 to 5 minutes, or until the desired thickness. Add the chopped cilantro, and season with salt and pepper as needed.
Toss the chicken with the sauce, and place onto the tacos.  Serve the tacos along with the caramelized onions, sliced avocado, and cheese.
 Chorizo Tacos Recipe
Prep time:
At Minero in Charleston, Sean Brock uses house-made green chorizo to make these tacos. Use the herb-packed green version if you can find it, but in the more likely event that you can only find red chorizo, rest assured it will be delicious.
Ingredients
2 russet potatoes, peeled
3 tomatillos, quartered
½ yellow onion, quartered and rinsed
½ bunch cilantro, leaves and stems chopped, plus 1/4 cup chopped, for garnish
Juice of 1 lime, plus 2 limes, quartered, for serving
1-2 serrano chilies, seeded and roughly chopped
Kosher salt and freshly ground black pepper
1 white onion, cut into ½-inch rings
1 tablespoon canola oil
8 yellow corn tortillas, warmed
3 tablespoons pork lard or canola oil
1 pound red chorizo, casing removed
Instructions
Preheat oven to 275 degrees. Slice potatoes into ½-inch-by 3-inch planks. Place potatoes on a baking sheet and cook until soft but not mushy, 15-20 minutes. Remove from oven and let cool.
Meanwhile, make salsa verde: In a blender, pulse tomatillos, yellow onions, cilantro, lime juice and chilies until roughly chopped. Season with salt and pepper to taste. Set aside.
Preheat a cast-iron pan over medium-high heat. Lightly drizzle one side of white onions with oil. Once pan is hot, place onions, oil-side down, into pan, and cook, undisturbed, until well charred on one side, 8-10 minutes. Set aside.
Add 2 tablespoons pork lard and chorizo to cast-iron pan, and sauté, breaking up chorizo with a wooden spoon, until cooked through, 3-4 minutes. Remove chorizo from pan and set aside. Add 1 tablespoon more lard to pan, then reheat potatoes and white onions until warmed through, 2-3 minutes.
To serve, place chorizo inside of warmed tortillas, followed by 1 tablespoon salsa verde, potatoes and onions. Top with chopped cilantro and finish with a squeeze of lime.
 Veggie Tacos Recipe
There are a lot of other veggies that will work with recipe – but we really liked the version from the original Food & Wine article. As suggested by Food & Wine, a bit of shredded chicken, pork or beef, or maybe some grilled shrimp, can be added for the carnivores in the group.
Ingredients
1 cup Greek yogurt
¼ cup extra-virgin olive oil
2 ounces creamy feta cheese
3 tablespoons finely chopped cilantro
2-3 ears fresh corn, cooked
1 can northern, or garbanzo beans – rinsed
½ teaspoon ground cumin
Kosher salt
Pepper
Eight 6-inch flour tortillas
1 jar Serious Foodie Sauce (suggested: Hatch Chile Sauce, Mexican Grill Sauce, or Peruvian Blood Orange Sauce. Click HERE to purchase)
Avocado wedges, sliced radishes and cilantro sprigs, for garnish
Instructions
Working in a large bowl, cut the corn kernels off of the cobs. Add the beans and toss.
Using the back of a knife, scrape all of the corn milk from the cobs into a medium bowl. Add the yogurt, olive oil, cheese, chopped cilantro and cumin, season with salt and pepper and mix the corn crema until smooth. Add all but ½ cup of the corn crema to the corn and beans, season with salt and pepper and toss to coat.
Spoon the corn and beans onto the tortillas and top with avocado, radishes and cilantro sprigs. Add some of the remaining corn crema, and a spoonful of the Serious Foodie sauce.
---