Want some creative ideas to add a sultry, seductive mood on Valentine's Day? Well, make this Valentine's Day spicy with these 5 hot foodie ideas.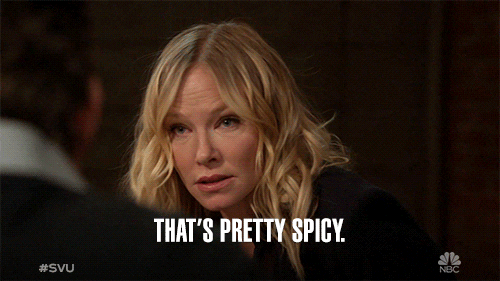 Whether you decide to cook up spicy dishes, make a dessert that will set the palate (and the passions) on fire, or just offering a spicy gift for you significant squeeze, you will most likely see something fun and potentially sexy. Let's start with…

---
#1:  Keep It Simple – Go Buy Some Chocolates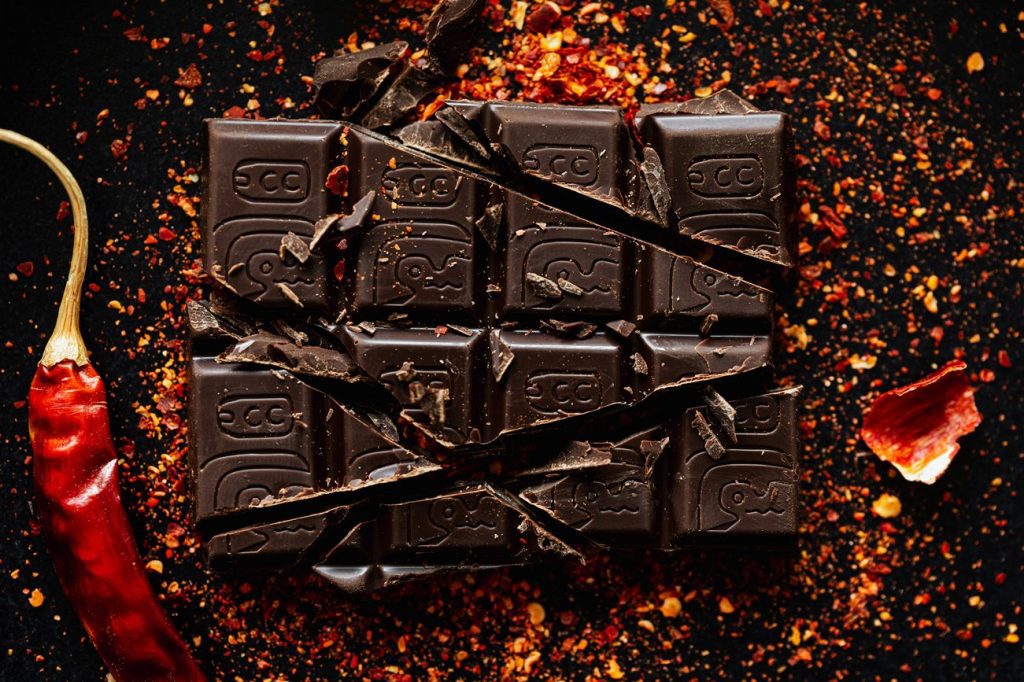 KIS – keep it simple.  But we're not talking about some boring box of chocolates that you find at the local grocery store (been there, done that, and rightfully failed – KISS is keep it simple, stupid). No, we're talking about finding a high-end box that will wow your partner.  Maybe something he/she has had in the past that they love, or something literally out of the box.  Norman Love Chocolates are the all-time favorites at Serious Foodie for their shear beauty and taste.  They will ship a pre-made selection, or you can develop your own box.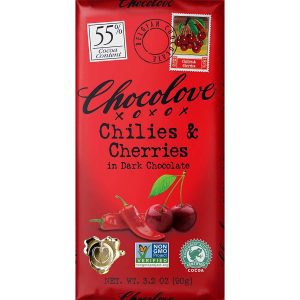 Make sure you have the Red Hot Cinnamon in the box – Mexican cinnamon is absolutely an amazing flavor.
If you want a quick spicy chocolate fix without too much cost, you can find Chocolove's Chiles & Cherries bar at many grocery stores, or order online.

How about something slightly exotic?  We love anything we've tasted from Taza, and they are great people.  Their Mexican sampler has a bunch of cool flavors, like cinnamon (slightly spicy), Guajillo (a bit more spicy, but full of flavor), and Chipotle (spicy/smoky/sweet). Check out their on-line store, or buy from Amazon.
How about some extra seduction points? Take a look at the Serious Foodie blog on how & why you should pair chocolate with wine. We also give a few more ideas on where to find some exotic chocolates for lovers of sweets.

---
#2:  Make A Spicy Meal
From Thai curries to Indonesian stir fry, to Mexican Moles, we love recipes that take their inspiration from around the globe – and they are simple, and quick (leaving time to really heat things up). Pictured above is a beautiful, simple, spicy, full of flavor Sri Lanka Chicken Satay.

How about warming the senses with chilies, ginger, and some hot broth?  Try your hand at Vietnamese pho. It is so simple to make, and will really impress – and it can be an "interactive" meal, put together in about  15 minutes.  It can be as spicy as you want, and can be veggie-centric by using tofu instead of meat. Serious Foodie sells a Vietnamese Pho kit – everything you need for pho, except the fresh meat & veggies.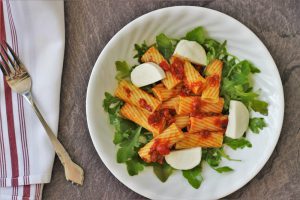 There is nothing like a bowl of pasta to warm the senses, and making it spicy is one of our specialties.  Authentic Calabrian peppers are imported from Southern Italy to make our Calabrian Pepper Relish.  Splash a bottle of this hottie onto your pasta, add a little bit of tomato sauce, then garnish with fresh mozzarella.  Click HERE to get the recipe. 
Serious Foodie sponsored a bloggers' recipe challenge in 2021 using our Asian spicy condiments and spice blends.  The results were amazing, and there is a long list of great recipes to spice up your Valentine's Day meal, including the award-winning Sea Bass with Vietnamese Sweet Chili Pineapple Slaw and Green Rice.  Some of the Honorable Mention recipes are also great for Valentine's Day – try the Crispy Nasi Lemak Chicken Sandwich, which is a spicy, exotic riff on good ol' KFC.

---
#3:  Sexy Spicy Foodie Gifts
Nothing says "I love you" than a bouquet of beef jerky.  We saw this on Manlyman.com, and we all wanted it – man or woman.  Check out their catalogue of spicy jerky, including our favorite: Spicy Sriracha Bacon Jerky. 
Another website that we frequent is Goldbelly.  If price is not a big issue, then look no further for a unique spicy foodie gift.  If you're not familiar, Goldbelly arranges food delivery from all sorts of places around the country – cheesecakes from the famous Junior's of Brooklyn, Chicago deep dish pizza from Lou Malnati's, and, of course, hot chicken from the famous Hattie B's of Nashville.  Hattie B's Southern fried chicken becomes Nashville hot chicken after you pour on the dip sauce and add the finishing spices included with each order. These spices are blended, sifted and packaged by hand at the Hattie B's Test Kitchen in Nashville. 
And Serious Foodie has some fun spicy gifts – check out our full selection of products, especially are new spicy condiments.

---
#4:  DIY Spicy Gifts
You might be all into crafts, or you might not have any arts/design thoughts in your head – but we found some ideas that are cool, and very easy to execute.  Check out The Craft Sparrow – she has these cute HOT & SPICY print-ables that can go onto almost anything, and it doesn't necessarily have to be food. 
How about DIY hot sauces?  William Sonoma, Uncommon Goods, and the Grommet all have fun kits, as well as Amazon.
 Magnolia Chocolate, Dandelion Chocolate, and Cocoa Loco have make-your-own chocolate truffle kits – anybody for a sriracha-soaked, chocolate-coated strawberry?

---
#5:  Create the Mood
Just be sure to set the mood, with candles, flowers, and an attractive table and get to cooking (or whatever). Just make sure to add some love. Some like it hot!