Crazy simple – and healthy & really delicious.  We did a bit of experimenting until we got this salad working so that we could serve it to company – or use it as a fast dinner salad by adding some protein (chicken, shrimp, steak, or tofu).  It's a change up from the standard warm spinach salad, with a lot more interesting thing happening.  Add some feta if you like.  Or some bacon.
What makes this recipe work is the dressing.  You just might want to pour this over everything.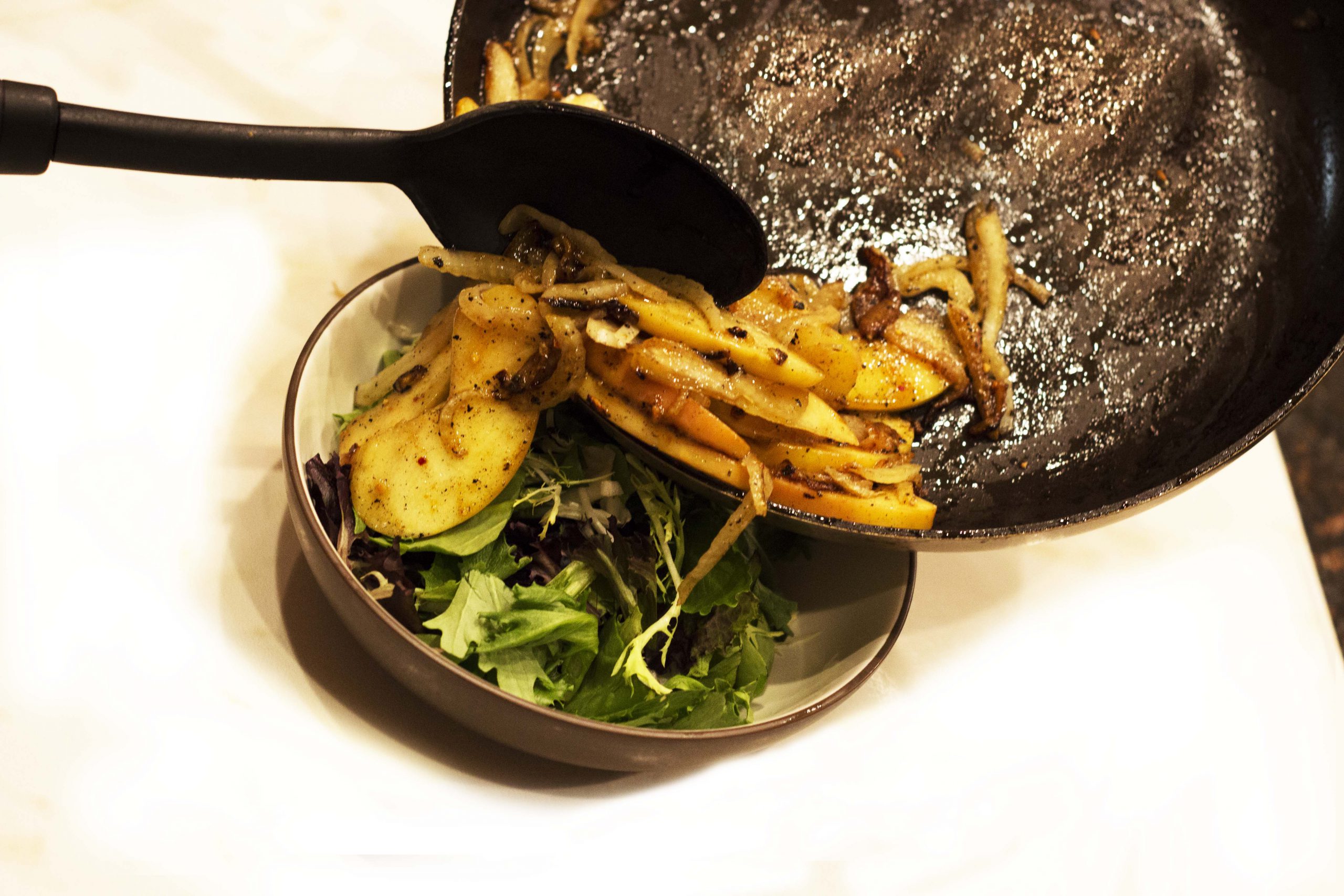 Warm Spinach/Fennel/Apple Salad
Prep time:
Cook time:
Total time:
Ingredients
2 tablespoons flavorful vinegar (raspberry, pear, or just nice sherry vinegar works)
1/2 teaspoon Dijon mustard
1 teaspoon Serious Foodie Kentucky Bourbon Rub, plus 2 teaspoons for apples & fennel
1/2 teaspoon salt
1/3 cup olive oil, plus 3 tbs. for the apples & fennel
2 tbs. unsalted butter
1 fennel bulb, cored and julienne thinly sliced
1 bunch spinach, washed
1 hardy apple, sliced (Granny Smith if you want tart, Honey Crisp or Braeburn if you want sweet).
Optional: mild goat cheese, or feta
Optional: 1/4 cup chopped pecans
Instructions
Place the vinegar, mustard, 1 teaspoon Bourbon rub, and salt into a bowl, and whisk together. Drizzle in the 1/3 cup of olive oil while whisking.
Place the 3 tbs. olive oil and butter in a saute pan over medium heat. Once the butter starts to sizzle, add in the fennel and apples. Saute for 2-3 minutes, then sprinkle evenly with 2 teaspoons Bourbon rub.
Pour immediately over the spinach, and serve. Garnish with optional goat cheese, feta, and/or pecans.