We have a saying at the Serious Foodie – there is nothing sexier than good food and good wine.  This is especially true for Valentine's Day, which is our second least-favorite day to dine out (next to New Year's Eve).  Why?  The good to great restaurants are packed, the kitchens are stressed, the prices are higher, and many places will dumbed-down the menus to accommodate the folks who venture out only on Valentine's Day.  Besides, this is THE DAY for the Serious Foodie to impress with a hand-crafted meal for the significant other(s) in our life, with matching wines, candle light, flowers, and other romantic touches.
Besides recipes and ingredients, you should also consider certain DO's and DON'Ts.  Here is our Serious Foodie 10 steps for sexy meals which will help you to impress your date, get another date, and who knows what else?
[/vc_column_text][vc_separator color="black"][vc_column_text]
10 Steps for Sexy Meals
[/vc_column_text][vc_column_text]
Not all great food is date food! Make sure you find out likes/dislikes before you start getting your ingredients together ("Didn't you know that I'm allergic to shellfish??!!!)
Don't just buy the most expensive ingredients, especially if you haven't had experience with them.  For instance, do you really know what to do with fois gras?  Do you really know how to shuck an oyster?

For the Serious Foodie, sexy food is food that will make you look good, that is well presented, and that will certainly taste good.  Spend time thinking about presentation – do some on-line research.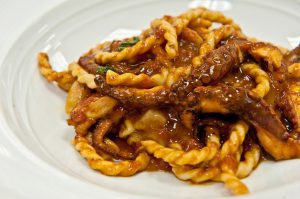 4. Think sexy places when putting the menu together – great themes come from very romantic places: Italy, France, Spain, the tropics.   How about making breakfast for dinner?
5. Lite bites, like tapas, sushi or crudo, antipasto, etc. can help to de-stress preparation, make the meal much easier to eat, and might help you  feel more comfortable (and confident)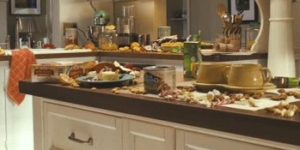 6. Don't let the cooking keep you from conversing. Cook food that doesn't require too much of your attention, so while the food is cooking you can still enjoy the company of your date. Or, have your date participate in preparations.Whether your date is a culinary expert or a novice, come up with fun, flirty ways for them to play sous chef. Maybe it's adding in some ingredients or a little stirring here and there.  Might help to stir things up later.
7. Watch out for strong ingredients – stay light on mint, cilantro, soy sauce, raw onions, garlic – you get the point.
8. Avoid super spicy foods, even if your date can tolerate it! There is nothing like indigestion or heartburn to kill romance.
9. Be careful with heavy, greasy meats – they'll slow you down, make you tired.  Unless you know for sure that the love of your life is a BBQ freak, stay away from a full blown porky/beefy food feast.  On the other hand, a bit of messy food fun could be a good thing – but just make sure ahead of time.
10. Save the best for last – wine & cheese, wine & chocolate, fresh & prefect fruit, a perfect creme brulee. Find out what's special for your sweetie, and make it happen!
[/vc_column_text][/vc_column][/vc_row]