Making a Mexican mole sauce can be a daunting task – some having over 20 ingredients, and taking a day to make.  Our Serious Foodie Mirasol Mole Cooking Sauce takes out all the hassle, and gives you no excuses for trying this wonderful sauce  (click HERE to purchase on line).
The star ingredient of this sauce is the medium hot mirasol pepper, a native Mexican variety that is mostly dried before use.  Mirasol means 'looking at the sun' in Spanish and describes the erect nature of the pods which grow on a compact plant.  Besides being an attractive plant, the mirasol pepper has a unique flavor of strawberry.  This flavor works exceptionally well with the touch of chocolate that is a key ingredient of any mole sauce.  A good mole will have only a hint of chocolate.
This dish had outstanding flavor, and was also ridiculously simple to make.  We suggest pairing the meat with either rice & beans, or our quinoa with mole sauce recipe (click HERE to see the quinoa recipe).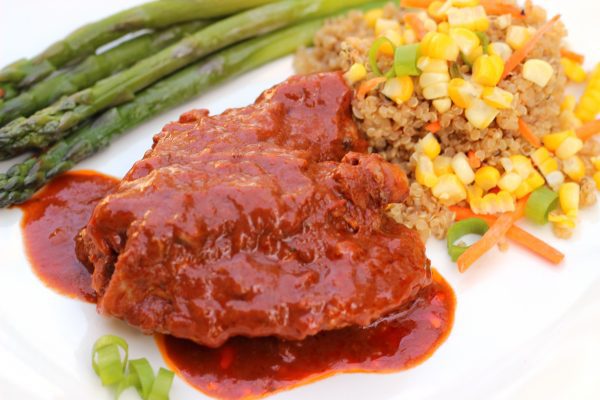 | | |
| --- | --- |
| | |
Pat dry the chicken. Sprinkle with salt and pepper to taste on both sides. Lightly dust the chicken with flour, brushing off any excess.

To a medium size skillet, add enough vegetable oil to just coat the bottom. Bring the heat to medium high, then add the chicken. Brown on all sides - about 5 minutes. Remove any excess fat.

Add the MIrasol Mole sauce and the stock over the chicken in the skillet, and stir. Add a cover to the skillet, and bring the heat down to simmer. Cook until done (about 20-30 minutes).

Serve immediately. Garnish with green onion, if you like.
Check out these other internationally-inspired sauces: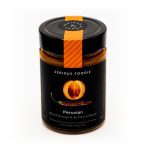 Peruvian Blood Orange
South Pacific Mango
New Zealand Tamarillo
Calabrian Chili Relish
Korean Grill