We love everything about New Zealand – the people, the unbelievable natural scenery, the Lord of the Rings, and especially the food.  It's been much too long since Americans have been allowed to visit, so travel with us through some of our favorite New Zealand inspired recipes.
Serious Foodie is sharing one of our very favorite types of recipes today – quick, easy, healthy, and "It's a clean-out-the-fridge" dinner.  You can use any kind of vegetables you like,  and you have a full meal ready in less than 30 minutes. Our tofu stir fry uses a secret ingredient: New Zealand Tamarillo Grill Sauce.
If you don't know tamarillo yet, you should.  Tamarillo has been around for a long time, generally believed to be native to the Andes of Peru. It was adopted by New Zealand as a commercial crop, and has developed a distinctive profile, unique to that country. The flesh of the New Zealand tamarillo is tangy and variably sweet with a bold and complex flavor, and may be compared to kiwifruit, sun-dried tomato, guava, or passion fruit, with hints of cherry. The tamarillo is rich in vitamins, A, B6, C, E, fiber and antioxidants– it is a true superfruit. The Serious Foodie Tamarillo Grill Sauce & Marinade captures the essence of New Zealand cuisine: tangy, sweet, savory, spicy, and completely unique.
This healthy tofu stir fry is a last-minute meal you can cook with anything you have on hand. We usually make it with snow peas or snap peas, along with broccoli – but it's really about what we have in the fridge – but you can swap in any veggie you like. Any vegetable is game!
Even if you think you don't like tofu, we hope you'll try this recipe. The tofu is firm, flavorful, nutritious – and a blank slate.  It will pick up lots of flavor if treated right. And veggies are fresh, colorful, and good for you. The flavors in this recipe are salty, sweet, savory, and satisfying – and addictively delicious.  Here are some things to consider before you start.
Extra-Firm Tofu. There is no substituting here. Tofu can be confusing, but only EXTRA firm tofu will do.
Save the sesame oil to drizzle on at the end to preserve its flavor. It's an optional ingredient, but we really like the robust, toasty, and nutty flavor it adds to this dish.
Rice or Noodles. We usually serve our tofu stir fry with brown rice but we also like rice noodles or soba – and the noodles are quicker and easier.  In our case, we used neither (keeping to a low carb diet)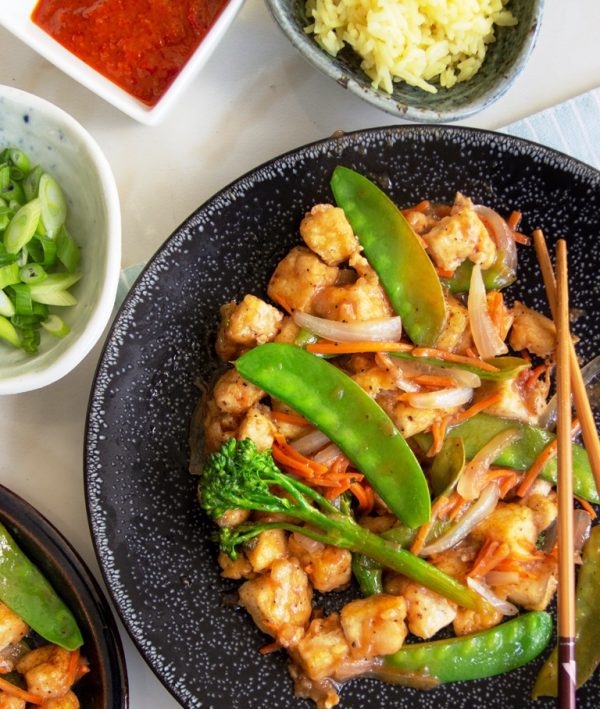 | | |
| --- | --- |
| | |
Open the tofu, and completely drain off the liquid. Cut the tofu in half, through the middle. Pat dry with clean paper towel.

Wrap each block in a double layer of paper towels and pressing down on the tofu to squeeze out excess moisture. Cut the tofu into 3/4-inch cubes.

Place the cubed tofu in a bowl, then evenly spread the cornstarch over the tofu while tossing.

Meanwhile, heat the oil on high in a 12 inch skillet. When the oil is hot, add the tofu (be careful, as the oil will splatter a little bit). Stir fry until a crust forms, about 5 minutes. Don't feel that you need to stir constantly. Leaving the tofu for a while on one side is what will allow the tofu to brown. Add the vegetables, and stir fry for another 5 minutes. Add about 1 cup of the Serious Foodie Tamarillo Grill Sauce, and toss. Salt and pepper to taste. Add the scallions, and serve with an Asian hot sauce (for example, Serious Foodie Indonesian Sambal).