Maybe it's the growing conditions, like the late summer heat, that makes corn so good this time of year.  Or maybe it's just the desire to hold onto the last vestiges of summer that fools us into thinking that we now have the best corn of the year.
We were inspired to write about corn after posting our Roasted Corn and Quinoa Salad recipe, which seems to have been a big summer hit (click HERE to see recipe).  We then saw a wonderful article by Jim Shahin, which was an incredible how-to primer on how to roast corn (click HERE to see article).  Mr Shahin shows five different methods, and why each one might serve a purpose.
So, whatever method you choose, and whatever variety is available, it's time to enjoy using the last of the summer corn.  These recipes work well for tailgate events, too (as long as you can find good quality corn).
Here are two recipes you might want consider (or just eat an ear or two with butter & salt, or plain naked).
---
Grilled Creamed Corn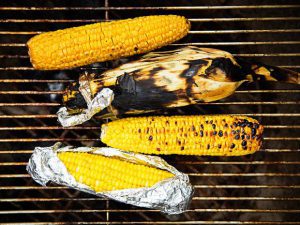 Author:
Prep time:
Cook time:
Total time:
Mr. Shahin's article was top-notch – and this updated creamed corn recipe is a perfect side dish to almost any meat, fish, or poultry you decide to grill. You can grill the corn a day or two before you need this dish. The creamed corn can stay refrigerated for up to 5 days.
Ingredients
2 tablespoons unsalted butter
3⁄4 cup chopped sweet onion (or scallion)
3⁄4 cup seeded, chopped sweet green bell pepper
3⁄4 cup seeded, diced sweet red bell pepper
3 or 4 ears "naked" grilled corn (see Mr. Shahin's article)
2 tablespoons flour
1 1⁄2 cups light cream
1⁄2 teaspoon kosher salt
A few grindings of black pepper
Instructions
Melt the butter in a large saute pan over medium heat. Stir in the onion and bell peppers; cook the ingredients for 5 to 7 minutes or just until softened, stirring a few times.
Scrape enough kernels from the ears to yield 3 cups. Transfer the kernels to a large bowl; discard the cobs or reserve them for making Corn Broth (see recipe at washingtonpost.com/recipes). Add the corn kernels to the pan, stirring to incorporate with the onions and bell peppers.
Whisk together the flour and light cream in a liquid measuring cup, then gradually pour the mixture into the pan, stirring to mix well. Cook for about 5 minutes, stirring occasionally; adjust the heat as needed so the mixture does not scorch. Season with salt and pepper.
Serve warm.
---
Grilled Corn on the Cob with Cilantro Queso Fresco Butter
Author:
Prep time:
Cook time:
Total time:
The flavors really pop in this recipe, and is a perfect match with some spicy grilled ribs.
Ingredients
6 ears corn on the cob in husks $
About 1/4 cup kosher salt
1/2 cup queso fresco (Mexican-style fresh cheese)*
1/4 cup butter, softened $
1/4 cup mayonnaise $
1 teaspoon lime zest
2/3 cup coarsely chopped cilantro
Instructions
Remove silks from corn but leave husks intact. Put corn in a large bowl with 1/4 cup salt and water to cover. Soak about 1 hour.
Heat a grill to medium-high (350° to 450°). Meanwhile, whirl queso fresco, butter, mayonnaise, and lime zest in a food processor until fairly smooth. Add cilantro and pulse to blend. Spread half the butter mixture on a plate and spoon the rest into a small bowl.
Grill corn, covered, turning occasionally, until tender (peel back husks to check), 10 to 15 minutes. Peel back husks from cobs and tie with a strip of husk. Roll cobs in butter mixture on plate to coat (use a flexible spatula to help), then set on a platter. Serve with remaining butter and more salt to add to taste.