We assembled a collection of quick & delicious easy party foods – Small Bites for Big Appetites. Use these recipes for any party – tailgating, dinner party, pot-luck, but especially for the holidays when easy can be best.
Our suggestions:  Have a theme, keep it simple, and have some fun.  We've combed the web to find some star-worthy recipes, along with some of our own originals.

---
Crostini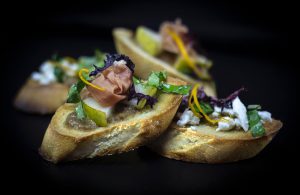 Let's start with one of the easiest – and most versatile – appetizers:  crostini (or bruschetta; click HERE for an explanation about the differences).  We featured a crostini recipe with brie, arugula, and Serious Foodie Fig/Orange sauce, along with links to other websites for other crostini recipes.  Check out these cool crostini recipes: Kale & White Bean (click HERE), Sweet Potato & Feta (click HERE), Radish & Miso Butter (click HERE), and Smoked Trout & Apple (click HERE).
Nachos
And the cousin to crostini?  Nachos!  There's nothing like piled-up chips with your favorite flavors, but you might want to add some twists.  We bought a bunch of flavors from the Better Chip company: Chipotle, Salsa Verde, Beet, and Spinach/Kale.  We dressed up the beet chips with diced veggies, then drizzled with a spicy Caesar dressing (regular Caesar with some hot sauce).  Next, we put some Serious Foodie Hatch Chile Sauce on the salsa verde chips, added shredded cheddar, then did a quick microwave melt (about 30 seconds).
We then made up a batch of pulled chicken (check out the recipe HERE). This is super easy to make, can be made (and should be made) a day ahead, and can be used for sliders or chips.  We piled the Chipotle Better Chip with some mango/aji pulled chicken, then some some more Serious Foodie Mango/Aji Sauce, some cheddar cheese, then did a quick microwave melt (or use the Spinach/Kale Chip for those who don't do spicy).
Dips
Dips went out of style, but now are making a big comeback.  Go simple with the Caramelized Onion & Shallot Dip (click HERE), Charred Egglant Dip (click HERE), or the tried and true Artichoke & Spinach Dip (click HERE).  How about taking out the old crock pot?  Try the Chili Mac N' Cheese Dip (click HERE), Chicken Enchilada Dip (click HERE), or the Lasagna Dip (click HERE).  How about the easy and healthy Roasted Brussel Sprouts with Garlic Aioli (click HERE)? Fresh aioli is not hard to make, and it is an impressive condiment for almost any vegetable – hot or cold.
Pizza and Flatbreads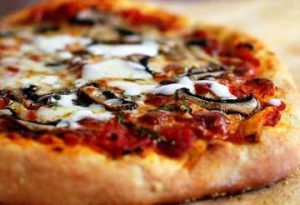 Surprise!  Homemade pizza and flatbreads are actually really easy.  We have an earlier full article on pizza making, including some of our favorite recipes such as Fig/Arugula/Goat Cheese, Cheesesteak, and the best Mushroom Pizza ever! (click HERE for the article).  If you're in a hurry, and rather not fuss over the dough, there are a lot of options for store-bought flatbreads – just add the toppings.  How about Falafel-Spiced Tomatoes & Chickpeas (click HERE), Grilled Zucchini & Ricotta (click HERE), Greek Salad (click HERE), or Bacon & Scallion flatbread (click HERE).
Creative Takes on Ham, Bacon, & Prosciutto
There is nothing more delicious – and easy – than getting a slice of good cheese, then rolling a nice piece of ham around it.  The picture for this section shows a piece of prosciutto on bread with chunk of mozzarella, topped with the Serious Foodie Fig/Orange Finishing sauce.  Or try rolling prosciutto around a piece of mango, then topping with a dollop of Serious Foodie Mango/Aji Amarillo sauce (fresh figs or pear are also great with prosciutto or Serrano ham; click HERE to see more).  Bacon always is a crowd-pleasure; trying these Bacon-Wrapped Goat Cheese bits (click HERE).  How about the classic Prosciutto-Wrapped Asparagus (click HERE)?  Or Roasted Endive and Prosciutto (click HERE)?  We've also posted other simple & delicious appetizer recipes using the Serious Foodie sauces (click HERE).
Have Fun With Potatoes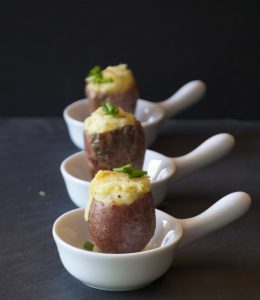 Potatoes are underrated as base for appetizers.  The picture for this section was found on the Mamasgottabake.com website – and these potatoes are cute, and addicting.  Click HERE to get this wonderful recipe.  We also loved making backed potatoes rounds – kind of an updated version on the old potato skin idea (click HERE).   There are a lot of excellent recipes for sweet potato fries – and we like the one we found on A-Kitchen-Addiction.com (click HERE).  Add some meat to the potatoes with this fun cheesy potato/sausage cups (click HERE).
Eggs!
Start with deviled eggs – and there are lots of great recipes – and you can't go wrong.  We found that the Food Network had lots of recipes:  click HERE.  Then we found this amazing recipe for avocado deviled eggs, with a great mix of bacon, jalapeno, etc.  (click HERE).  Going back to crostini, we found this arugula/walnut/soft boiled egg recipe just perfect (click HERE). To cap off (literally) our appetizer selection, take a look at this brilliant recipe on PaleoSpirit.com for Baked Eggs in Prosciutto-Filed Portobello Mushroom Caps (click HERE).  We did these at a recent brunch function, and they were a big hit.