Thanksgiving is our favorite holiday at Serious Foodie. You owe no greeting cards, no gifts. You can stuff yourself silly, drink too much wine (or beer, or cocktails), then pass out in front of the TV, opening an occasional eye to check the score of a football game.  But you still have to contend with the meal, and getting the right combination of food and wine together.
Wine pairing might scare some, but it's a whole lot easier than experts might have you believe.  Doing a traditional dinner with turkey and the usual sides (mashed potatoes, green beans, cranberry sauce, etc.)?  Think light, crispy, acidic wines (white or red).
Going the vegetarian route, with a lot of root vegetables and greens?  Same scenario: light, crisp, acidic wines (maybe with a slight bit of sweetness).
We've produced a list that will work with most Thanksgiving menus – some favorites we've listed previously, and a few off the beaten path bottles.  And if all else falls flat, mix up some cocktails (check out our new cocktail/beverage blog).
---
The Whites
Mirabelle Brut by Schramsberg, (California; $19). Schramsberg was one of the first sparkling-wine makers in California, and is still one of the best. Mirabelle, the "little sister" of its more expensive bottles, is terrific for the price. Roederer Estate L'Ermitage is another domestic bubbly that we like a lot, but at a higher price ($50).
Chateau Ste. Michelle and Dr. Loosen "Eroica" Riesling (Columbia Valley, WA; $22). A partnership between one of Washington's largest wineries and one of Germany's most famous vintners results in the best Riesling in the state.
Riesling is a good go-to wine in general, and you can't go wrong with any crisp, dry version.  The Dr. Loosen Red Slate Riesling has always come out near the top of our blind tastings, and a good bargain at $18.  At a slightly higher price point is Selbach-Oster Bomer Riesling at $25, but worth the up-grade.
Mulderbosch Chenin Blanc  This South African beauty can be had for a mere $13. The wine has sort of has a green hue, but don't let that stop you. You can smell the minerality and taste the fruit on the back end. This is an easy bottle to drink (or finish).
Another favorite of ours is Frescobaldi Ammiraglia Massovivo Vermentino Toscana IGT at around $20. The Vermentino grape is one of my favorites and while the Marchese de' Frescobaldi family also is know for its reds, their property in southern Tuscany is banging out this beautiful white wine that will work with everything from the vegetables to the required pumpkin pie.
And while most sauvignon blanc wines will not really hold up to stronger flavors, try the Cloudy Bay Sauvignon Blanc Te Koko.  It is pricey (about $60), but definitely unique: when we had it the first time, we thought it was more like a French Burgundy than a New Zealand sauvignon.  The oak aging gives it a buttery smoothness, with pronounced aromas of apricot, lemon, lime, pineapple, apple, grassy, wet stone, and a bit of spice. Dry with a hint of sweetness, lively acidity, very round and long finish. If you can find it, this is truly an amazing wine.
---
The Reds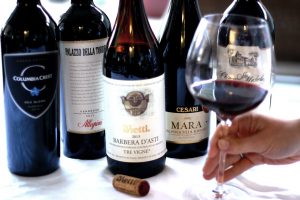 Let's start with our all-time favorite bargain wine: Allegrini Palazzo della Torre (always less than $20).  The Allegrini Family makes some seriously great wines at many price points. This wine has always impressed us with its consistent quality and value, and it is easy to find. Allegrini uses an innovative "ripasso" method that gives this wine a style similar to higher end Amarone wines. Bursting with dark, dried cherries, blackberries, and hints of dates, this wine has a lasting finish bolstered with just enough tannin to make it interesting, and worthy of a few years in the cellar. Pair with pasta, poultry, or mild sausage.
You can't go wrong with using a decent Pinot Noir for Thanksgiving.  Our favorites in the under $25 range are Et Fille (Oregon, about $22), Siduri (Oregon, about $22), Mt. Beautiful Pinot Noir (New Zealand – about $25), The Crossing Pinot Noir (New Zealand – about $25), Boen Tri-Appelation (California – about $25), J. Lohr Falcon's Perch Pinot Noir, (California – about $15), and La Crema Monterey Pinot Noir (California – about $25), If you are willing to pay more, and willing to search a bit, Domaine Serene Evenstad Pinot Noir (Oregon – about$65) Felton Road Pinot Noir (New Zealand  – about $50) may be the best Pinot Noir wines outside of France.
Lagrein is a big more off the beaten track – it's  a Northern Italian varietal grape (South Tyrolean regions near Austria, such as Alto Aldige), related to both Pinot Noir and Syrah. So, it's not surprising that Lagrein wines have both characteristics – red berry fruit flavors punctuated with chocolate, coffee, and spice. There are powerful versions, as well as more feminine versions. However, the good ones are well-balanced, with enough acidity to make them extremely food-friendly. We have come across some outstanding bottles through the years, including the wonderful wines from Alois Lageder, J. Hofstatter, and Cantina Terlano, all in the $25 range.
We use a lot of Barbera with both fish and poultry, especially since there are a lot of affordable delicious versions.  We suggest the Paolo Scavino Barbera D'Alba Affinato ($22).   Barbera has enough acidity to make for an inspirational and creative match with fish & seafood, especially dishes having lemony or tomato sauce.   We did also taste the Vietti Barbera d'Asti Tre Vigne ($17), which made the Wine Spectator Top 100 list.
Lambrusco is
an Italian red grape that is often misunderstood – it was once the product of over production and poor wine making.  It has now come into it's own with both frizzante (slightly sparkling) and still versions getting a lot of attention.  The best versions originate from the great food region of Emilia-Romagn, including those labelled as Lambrusco di Sorbara.  The best versions are  dry and refreshing but have delightfully sweet aromas of orange blossom, mandarin orange, cherries, violets, and watermelon. They also pair extremely well with spicy cuisine. Try the Cleto Chiarli Lambrusco di Sorbara Vecchia Modena (about $15), I Querciol Reggiano Secco Lambrusco (about $15), and Lini 910 "Labrusca" Lambrusco Rosso (about $15)