Central/South American Grill Set
Try three of our most popular bold flavors, from the South of the Border: the Brazilian Smoky Jalapeno Sauce, the Mexican Grill Sauce, and the Peruvian Blood Orange Sauce. These products work well together, or can be enjoyed separately as grill sauces, dipping sauces, or braising sauces.  Each are regionally inspired, and each tells a unique culinary story.
Check out our Recipes page on how to use these fun ingredients.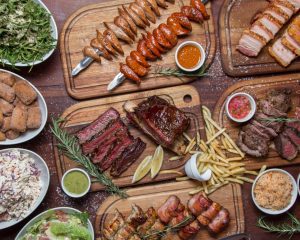 Includes:
Brazilian Smokey Jalapeno Sauce:  Smokey, sweet, spicy – just like it's done in Brazil. Try our award winning South American favorite!
The Serious Foodie Mexican Mole Grill Sauce is an exciting, slightly spicy, savory sauce that works well with meat, fish, and poultry – but you'll find yourself using it on anything and everything.
Peruvian Blood Orange Sauce:  We bring the Peruvian experience to you through our wonderful Peruvian Blood Orange Sauce – spicy, sweet, and savory.