Central/South American Grill Set
Try three of our most popular bold flavors, from the South of the Border: the Brazilian Smoky Jalapeno Sauce, the Mexican Grill Sauce, and the Peruvian Blood Orange Sauce. These products work well together, or can be enjoyed separately as grill sauces, dipping sauces, or braising sauces.  Each are regionally inspired, and each tells a unique culinary story.
Check out our Recipes page on how to use these fun ingredients.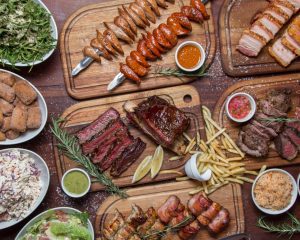 Includes:
Brazilian Smokey Jalapeno Sauce:  Smokey, sweet, spicy – just like it's done in Brazil. Try our award winning South American favorite!
The Serious Foodie Mexican Mole Grill Sauce is an exciting, slightly spicy, savory sauce that works well with meat, fish, and poultry – but you'll find yourself using it on anything and everything.
Peruvian Blood Orange Sauce:  We bring the Peruvian experience to you through our wonderful Peruvian Blood Orange Sauce – spicy, sweet, and savory.
Great as a gift Very nice packaging and presentation. Bday gift was well received. And fast delivery!
Disappointed!! Box contained only 3 items, not the 5 as advertised. Disappointed as this was to be a gift!!
Great value I bought these as gifts for my children and they loved the flavors the beautiful packaging they said they are delicious
Purchased as a gift for my sister. Each time she uses one of the items, I get a rave review from her family. Everyone loves what she has created with these gifts.
Loved! Bought this for a Christmas present, for my neighbor. He loved it!
Amazon Customer
2022-02-19
Only one product did I like out of this pack. Won't buy again. Taste of products are not very good . I make homemade sauces that are superior.
So Good! The pomegranate sauce works wonderfully with chicken. I put the chicken in the instant pot along with some of this sauce and it is so easy. I then use the chicken for greek wraps, with tzatziki sauce, olives, lettuce, tomatoes etc. Yum! The West African spice rub is also very easy. I layered chicken sprinkled with this spice in the instant pot and it turned out perfect. It is not very spicy hot. The gravy was great! I served the chicken with steamed sweet potatoes, rice and gravy, and steamed broccoli. Easy and delicious! My husband and boys had seconds and even thirds.
Rebecca St. Michel
2021-07-07
Worth the money Super yummy, great packaging, overall great quality.
David Brownstein
2021-03-06
It was perfect A giftOur children loved it
These sauces are fantastic! Serious Foodie sauces and marinades are phenomenal! They combine unique flavors and work well with a variety of foods like meats, seafoods, etc. Highly recommend to purchase these - every sauce I have tried is great.