When you have a serious chocoholic in the house, then you can't avoid buying a box of chocolates.  We have literally tasted chocolates around the world, and we've given you our list of the best, Unique Holiday Gifts: Chocolates.
Belgian Chocolates
Some might argue over which country makes the best chocolate, but there is no argument over the quality and the service from Belgian chocolatier Neuhaus.  They are beautifully boxed, and oh so delicious.  Go to their website, take a look at their video, then order for you and your significant other.  Other Belgian chocolates you might want to try are Leonidas and Planete Chocolat.
Italian Chocolates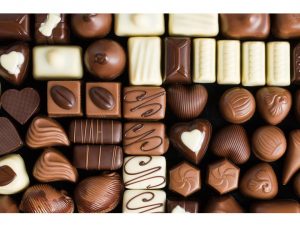 There are the usual suspects, like Baci, Ferrrro, and Perugina (see 5 Popular Italian Chocolate Makers), but there are others you should explore. It's not surprising that the best Italian chocolates come from the areas that border the French and the Swiss, primarily in the Piedmont region.  Check out the amazing Venchi chocolates at Worldwide Chocolates.or our favorites at Baratti & Milano.
French Chocolates
French chocolates are decadent in both flavor and price, but well worth the splurge.  We were first introduced to La Maison du Chocolat in their small NYC store, and they remain our favorite French chocolate.  You can go to their website for an outstanding mail-order experience.  We also found the rare and highly-regarded Michel Cluizel chocoaltes at the iGourmet.com website.
USA Artisan Chocolates
There are more and more great artisan chocolate makers in the USA every year – and they seem to get better every year.  One of the best places in the country to investigate small batch artisan chocolates is New York City.  There are so many great choices – Jacques Torres, Vosges Haut-Chocolat, and MarieBelle's – which will all do mail order.  Another great resource is the article on the Epicurious.com website which surveys a number of artisan chocolatiers across the county.  Our favorite small batch producer is Norman Love in Fort Myers, FL.  Their chocolates are almost too beautiful to consume – but they are amazing when you take a bit.  They are worthy of the praise they get from a lot of chocolate fans – www.normanloveconfections.com. ‎