This photo of Fountain Restaurant is courtesy of TripAdvisor
There are many times that MrSeriousFoodie and wife DinnerDoctor go out to fancy restaurants, only to be disappointed. This was no tone of them. In fact, they hit the proverbial home run. The food all was exquisitely balanced in flavor and texture, with some playful surprises in the use of ingredients and combination of flavors. We were steered to the al la carte menu, and had two outstanding appetizers and main courses. DinnerDoctor had her favorite:  oysters.  But these were magnificent:  chilled Cape May Oysters On The Half Shell; Three Ways – Bloody Mary Geleé, Radish, Celery Salt, Lime, Wild Trout Roe, Yuzu and Soy, Pickled Fennel, Red Onion, Mirliton Mignonette.  Each oyster was perfect, and the added sauces were spot on – matching the succulent shell fish, without overpowering the delicate flavors.  The Bloody Mary Geleé was my favorite.  MrSeriousFoodie had the amazing chilled Sweet and Spicy Alaskan King Crab Cocktail"  dressed with citrus celeriac chiboust, pok choy, pea shoots and watermelon radish, perfectly dressed with sesame soy and green apple dressing.  Do I have your attention yet?  It was the second time within three nights that I had a crab meat cocktail (more on this later) – each was great in there own way, but this was an Iron Chef-worthy dish.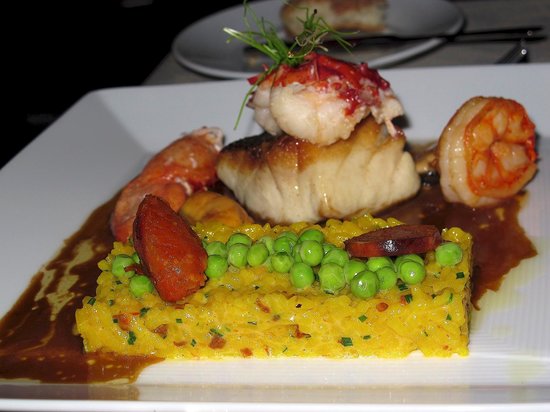 This photo of Fountain Restaurant is courtesy of TripAdvisor
The two main courses were again picture-perfect.  And thanks to TripAdvisor, we got a perfect picture of the dish:  The star was the deconstructed paella, with sauteéd Atlantic black bass, tiger shrimp, and lobster – each was a separated piece, with the rice separate.  The rice was more like a fine risotto instead of paella, with English peas, chorizo, and saffron sauce holding it all together. We will definitely try to reverse engineer this rice, and get back to you with a recipe.


Likewise, the roasted Virginia Squab and Foie Gras au Poivre was a nicely balance dish, with the game bird done perfectly.  The accompaniment was what really sold us on the dish -the foie gras was sitting on a cranberry and potato griddle cake, along with candied salsify. The sweet components matched perfectly with both the foie gras and the squab.  The Glogg sauce on the dish was also masterful – we could have downed a quart of it.  And I thought that only Swedes knew what to do with Glogg.
Wine by the glass, albeit much too expensive, were matched well with each course.
And the desserts just blew us away. The nutella lava beignet was maybe the most perfectly tasty dessert we've ever had – and it was a work of art.
Way to go, chef Gonzalez.