We came across a package of tri-colored cauliflower, and we got inspired to find a recipe that was a bit different than our usual steamed, roasted, or sauteed cauliflower.  We wanted to highlight the color and flavor of these amazing looking vegetables, and create a satisfying main dish that fits our new vegetarian diet.
This recipe uses the Sicilian concept of sweet/spicy/salt/sour.  And it's simple, and delicious.  Even though Calabria is not strictly Sicilian, we add some of the Serious Foodie Calabrian Pepper Relish to spice up the dish – the Sicilians also love their spicy peppers.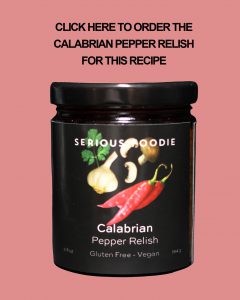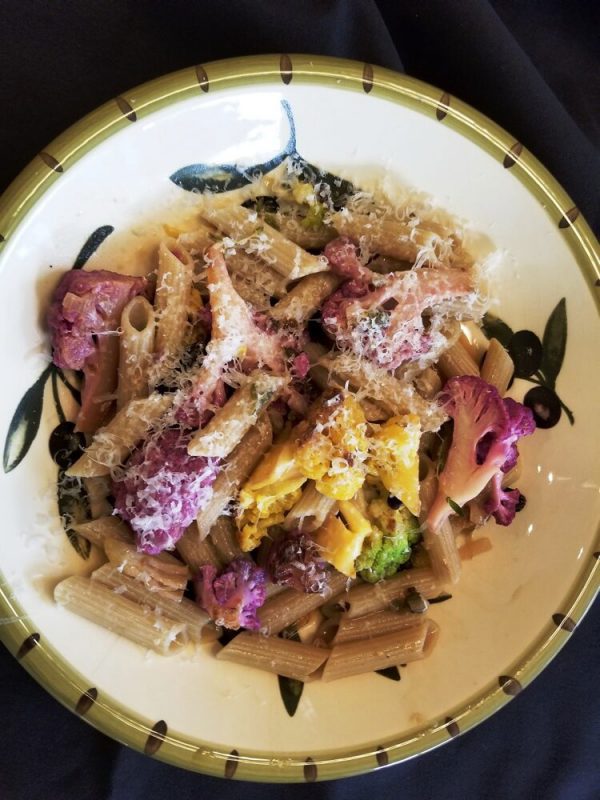 | | |
| --- | --- |
| | |
Bring a large pot of water to a boil over high heat, then salt it generously. Add the penne and cook, stirring occasionally, until slightly tougher than al dente.

While the pasta is cooking, heat 2 tablespoons of the oil in a large skillet over medium-high heat. Add the cauliflower, shallots, and garlic, and cook, stirring, until the cauliflower is well browned, about 8 minutes. Reduce the heat to medium. Add the remaining 2 tablespoons oil, 2 teaspoons salt, water, vinegar, honey, capers, thyme, bay leaf, fennel seeds, and season with salt and black pepper. Bring to a simmer, cover, and cook until cauliflower is fork tender, about 7 to 8 minutes. Add the raisins, and about 1/2 cup of the pasta cooking water. Add the pasta and simmer for another 5 minutes. Remove from the heat and add parsley. Remove and discard the thyme.

Plate the pasta, then add the cheese and drizzle with additional extra virgin olive oil.