Halloumi – have you heard about this cheese that doesn't melt?  It's actually a bit magical, in a way.  It doesn't taste like much when raw (in fact, it's a bit rubbery and salty).  When cooked, it has a browned, crusty exterior, a soft, gooey interior, and an intensely savory flavor.  And it can then be used in so many different ways – salads, sandwiches, crostini…. you name it.  Halloumi truly is magic – a cheese that retains its shape when grilled.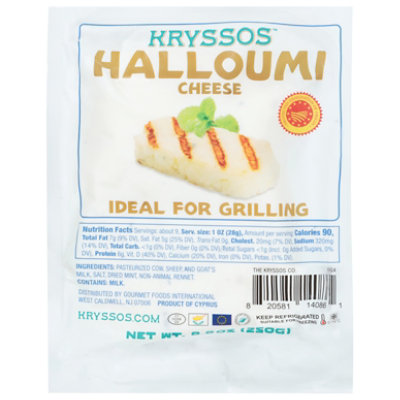 We're finding it everywhere, even on Amazon!  So, give it a try with this very simple  recipe.

| | |
| --- | --- |
| | |
Preheat outdoor grill or stove-top grill pan over medium-high heat/flame, about 400 degrees Fahrenheit.

Slice the halloumi block into eight (1 oz) slices.

Brush the slices with olive oil on both sides. We like to sprinkle a bit of spice rub on the oiled halloumi for some extra flavor. We suggest the Moroccan Grill rub, but other Mediterranean spice blend will work.

If using on a salad, we suggest getting the salads ready before grilling the halloumi. We like the Mediterranean combination of grains, egg, tomatoes, and salad greens. You can make up a quick Mediterranean dressing by taking 1/2 cup of Serious Foodie Pomegranate Grill Sauce, mix in 1/4 cup red wine vinegar, and whisk in 2 tablespoons of olive oil.

Cook 3 minutes on each side, until crisp and browned. Serve immediately. You can place the halloumi onto the salads, then drizzle the pomegranate dressing over the top.
Check out all of our cool products at the Serious Foodie Shop - click HERE.